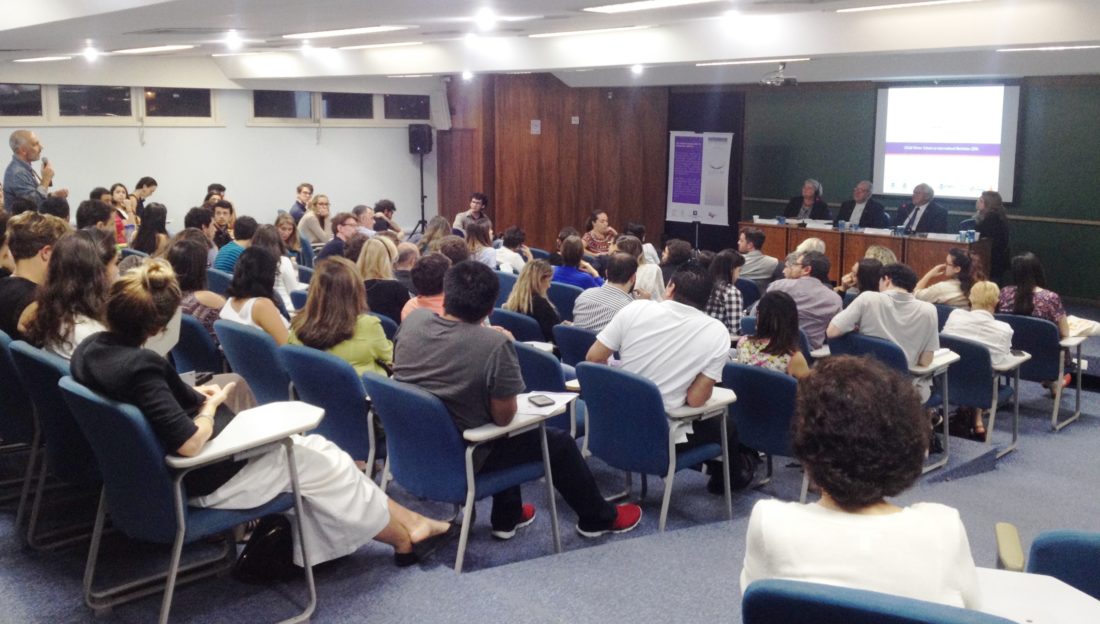 3 de August de 2016
In
News
SUMMARY OF PUBLIC EVENTS OF GSUM´S WINTER SCHOOL 2016
Organized by the Global South Unit for Mediation (GSUM), the third edition of the Winter School took place last July. It happened in a two-week intensive academic and training program on international mediation, with roundtables that brought together academics and professionals of multiple institutions that are a reference in their respective areas. The main courses were taught by Roxaneh Bazergan, Team Leader of the Mediation Support Unit, in the Policy and Mediation Division, United Nations Department of Political Affairs (DPA); Oliver Richmond, Professor of International Relations at the University of Manchester; Dominik Balthasar, senior researcher at swisspeace; Edy Kaufman, professor at the University of Maryland and Pablo Lumerman, founder and director of the organization Estudio de Valle, responsible for several mediation processes.
Below there is a summary about the public events that took place at PUC-Rio and BRICS Policy Center:
OPENING SPEECH BY PRESIDENT ERNESTO SAMPER, UNASUR SECRETARY-GENERAL
On July 12th, 2016, the Global South Unit for Mediation (GSUM) welcomed Secretary-General of the Union of South American Nations (UNASUR) and Colombia's former president, Ernesto Samper, to launch the third edition of the Winter School on Mediation. At the occasion, President Samper gave the speech "Conflict and Peace in South America", in which he highlighted South America's peaceful vocation and UNASUR's role in maintaining peace in the region. Norwegian Ambassador in Brazil, Aud Marit Wiig, the President of PUC-Rio, Prof. Fr. Josafá Carlos de Siqueira, and GSUM Coordinator, Monica Herz, also participated in the event.
ROUNDTABLE "CONFLICT RESOLUTION AND MEDIATION IN LATINA AMERICA"
On July 19th 2016, the GSUM Winter School held the roundtable "Conflict Resolution and Mediation in Latin America". The roundtable's aim was to evaluate past and current conflict situations in Latin America, with a specific focus on the identification of best practices and methodologies in terms of conflict prevention, mediation and resolution. The objective was to present and exchange ideas, tracking challenges and evaluating policy options for regional, national and local crises currently experienced by the region. The panel was composed by Graciela Tapia (UNDPA), Pablo Lumerman (ACCESS) and Edy Kaufman (University of Maryland)
ROUNDTABLE "CONFLICT RESOLUTION AND DISARMAMENT"
On July 21st 2016, the GSUM Winter School held the roundtable "Conflict Resolution and Disarmament". The panel explored the challenges about disarmament processes, understood as a fundamental step for peacebuilding. By Analyzing the characteristics and complexities of processes of mediation and conflict resolution, this roundtable provided the opportunity to also reflect on the contexts of local violence. The roundtable was composed by Rob Muggah (Igarapé Institute), Ignacio Cano (UERJ), Denise Garcia (Northeastern University) and Monica Herz (GSUM | IRI / PUC-Rio).
Beyond the Winter School, the GSUM and BPC held the colloquium "Regional Patterns of Inter-State Crisis Mediation", in which GSUM fellow Markus A. Kirchschlager (GIGA Institute of Middle East Studies) presented his recent research about regional patterns in the ways mediation is practiced.