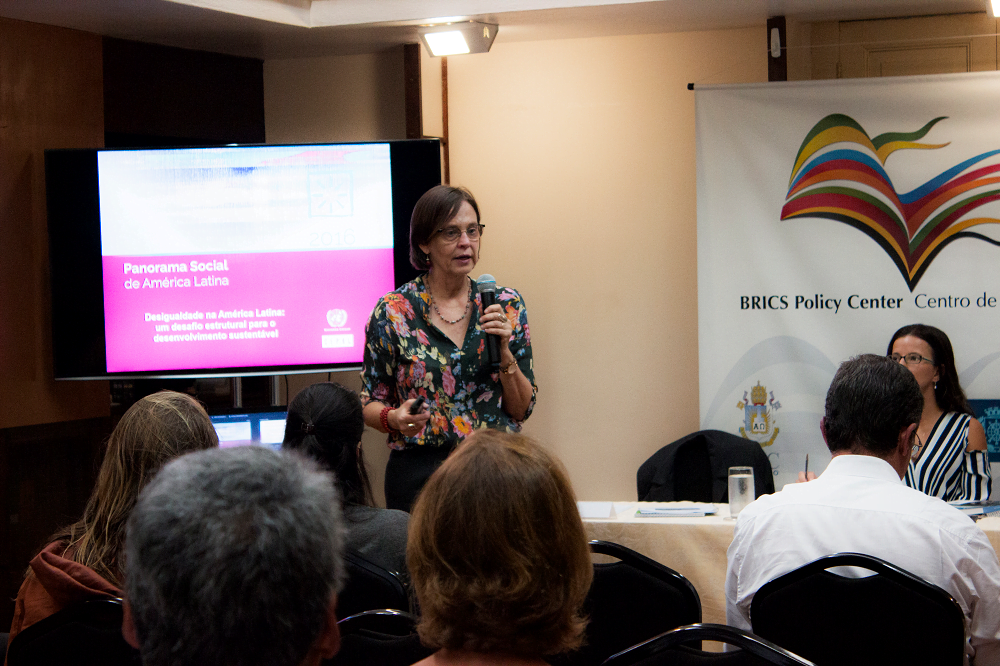 26 de June de 2017
In
News
RELEASE OF THE SOCIAL PANORAMA OF LATIN AMERICA 2016
On June 26th, 2017, the BRICS Policy Center hosted the release event of the Social Panorama of Latin America 2016, organized in a partnership with the Economic Commission for Latin America and the Caribbean (ECLAC) and the World Centre for Sustainable Development (Rio + Centre / UNDP).
The event had Prof. Isabel Rocha de Siqueira (IRI/PUC-Rio) as moderator and counted with the participation of Laís Abramo, Director of the Social Development Division of ECLAC, and Rômulo Paes, Director of the World Centre for Sustainable Development (Rio + Centre). The report approaches inequality in Latin America as a structural challenge to the implementation of the Sustainable Development Goals (SDGs) in the region.
The document innovates by disaggregating collected and produced data on income inequality and in terms of rights and opportunities in the matters of gender, race, and identity in the year of 2016. The presentations highlighted the importance of well-being and social inclusion public policies as an effort to mitigate these inequalities and alert to the reduction of social investment in Latin Americal, especially in Brazil. A few years ago, the country was a world reference in terms of social policies and there is no way to know if this reference will be able to sustain itself.
Among its proposals, the Social Panorama of 2016 highlights the importance of gender equality and women empowerment in social policies and defends a tax policy that is, at least, less aggressive.
For further information on the Social Panorama 2016, click here. 
To download Laís Abramo's presentation, click here. 
Watch the videos of the presentation (available in Portuguese only): part 1 and part 2 
TV PUC-Rio made a series of interviews with the speakers and produced a video in which they approach inequality in Latin America. The video is available in Portuguese only and you can watch it here.