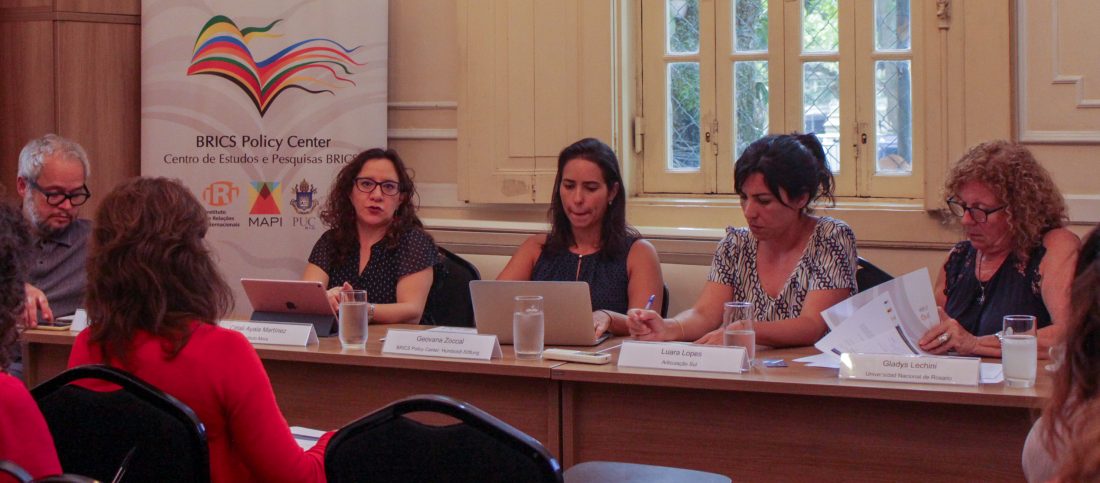 5 de February de 2020
In
News
Specialists Meet at BPC to Discuss Combined Research in South-South and Triangular Cooperation and Platform NeST LATAM
The Latin American chapter of The Network of Southern Think Tanks (NeST LATAM) is a platform that gathers researchers from different research institutions in Latin America to collaborate on the systematization, consolidation and sharing of South-South and Triangular Cooperation (CSSTr) expertise along with other topics in international development.
From January 13th to 15th of 2020, Brazilian, Argentinian and Mexican members of the platform met at BRICS Policy Center with the objective of sharing results and developing new methodologies for joint research in CSSTr in Latin America. Considering the different concepts, focuses, practices and bureaucracies present in the region, the group works on evaluating the data, along with analyzing and elaborating research and documents that can serve to orient public policies in the region and worldwide, inspiring new academic research and overall contributing to the economic, social and sustainable development of the countries concerned.
During the three days of work, the team developed a charter for the platform NeST LATAM along with the first steps towards the 1st Edition of the Winter School for South-South and Triangular Cooperation, which will take place this year. In addition to the internal group meetings, two public events also took place in which the participants shared their perspectives and tendencies for Cooperation for Development in their respective countries. "Institutional arrangements and regional governance: LATAM main obstacles and enabling aspects for an improved coordination of SSTrC" on January 14th and "Thinking about LATAM internal processes: regional main lessons and instruments to design, monitoring and evaluating SSTrC projects and programs" on January 15th. The two round tables brought policymaker, civil society and academic perspectives. Aside from the specific concepts and practices, technical questions regarding the challenges of monitoring and evaluating CSSTr were also addressed, looking for accountability without compromising the intangible and particular aspects of developing countries.
The meetings and public events were made possible with the partnership of the United Nations Office for South-South Cooperation (UNOSSC) and funding from Capes.