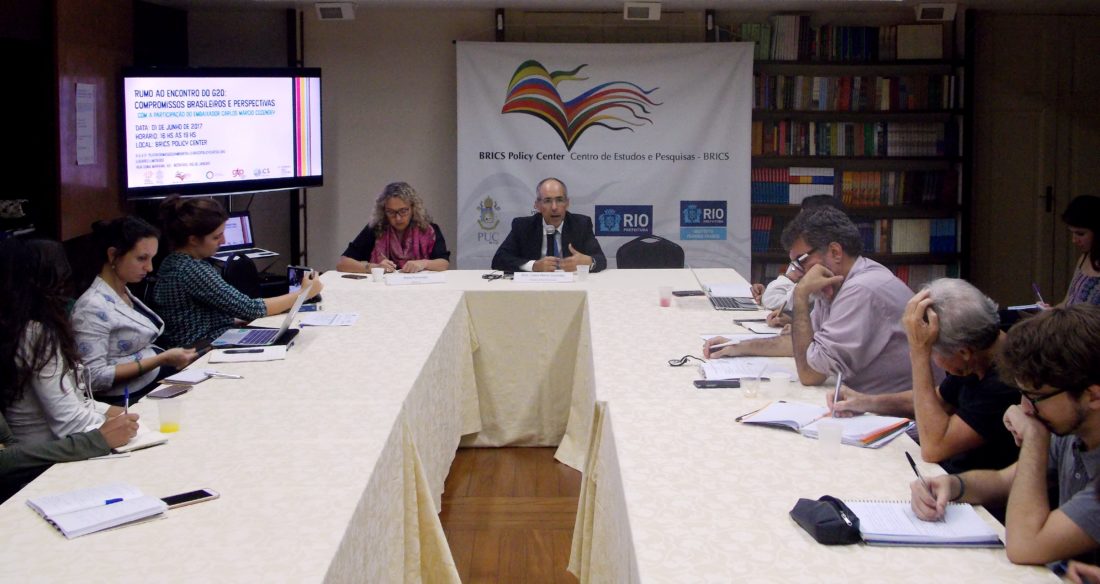 8 de June de 2017
In
News
ROUNDTABLE "RUMO AO ENCONTRO DO G20: COMPROMISSOS BRASILEIROS E PERSPECTIVAS"
On June 1st, 2017, the Socio-Environmental Platform of the BRICS Policy Center held the roundtable "Rumo ao encontro do G20: compromissos brasileiros e perspectivas". The event counted with the participation of the Brazilian G20 Sherpa, Ambassador Carlos Márcio Cozendey, as well as scholars, representatives of non-governmental organizations and members of the civil society.
In a context of uncertainty and insecurity about the position of the US delegation in the upcoming G20 Summit, the German G20 presidency took advantage of its role to bring several points into the agenda. The ambassador highlighted several sensitive points of the agenda, in order to encourage discussions between scholars and representatives of the government concerning the role of Brazil in the Summit.
After the successful Paris climate agreement and the first evaluations about the last agenda, the Group of Twenty will debate about health, climate issues and, to a lesser extent, global trade. The delegations will deal with issues such as antibiotics, marine litter, as well as incentives and awareness of firms on socio-environmental issues. Even though the upcoming agreements will face some obstacles, the ambassador is optimist concerning the role of Brazil in the Summit, that will be held in Hamburg from July 7th to 8th, 2017.