6 de August de 2020
In
Uncategorized
Modern Slavery Research Center
Modern Slavery Research Center
The Modern Slavery Research Center is born in an international context with 40 million modern slaves. In a world with several anti-slavery policies that have proven to be insufficient in a series of scenarios, contexts and particularities. It takes place in the city of Rio de Janeiro, a territory with several issues that surely contributes to a context of vulnerability to modern slavery. The Center counts on local partners to investigate the agenda to think alternative paths to fight modern slavery and to build a proper agenda with goals to fight, by enhancing current public policies. 
For that, it first explored the impact of supply chains in anti-slavery measures through a partnership with the University of Nottingham ("The interaction of law and supply chain management in cross-judicial supply chains: supply chain effectiveness of modern slavery legislation"). Afterwards, through a project called Global Cities Free of Slavery, also with the partnership of the University of Nottingham, is trying to understand the relevance of cities in the anti-slavery agenda and how can a network cooperate to encourage innovative policy and practices through comparison and adaptation of novel initiatives and ideas and place-based responses to this crime (Global Cities Free of Slavery).
Therefore, we believes that both private sector and cities can be focus of resistance to modern slavery, considering place-based anti-slavery strategies to relate local government and law enforcement efforts with voluntary and community-based actors and actions to develop sustainable practices for its eradication. In this context it is fundamental to remember the colonial slavery heritage that Brazil and the city of Rio de Janeiro carry, to understand the relevance of the Modern Slavery Research Center.
In the past centuries, around 5.848.266 million African slaves arrived in Brazil to work in plantations, houses and to constitute this massive land as a country. Of this amount of people, nearly a million are estimated to have disembarked in Rio de Janeiro, precisely in the Valongo Wharf. The area around the old Warf became a space occupied by the recently freed slaves from several nations, especially since the Eusebio de Queiroz Law – that abolished International Slave Trade in Brazil (1850) – and the Golden Law – that abolished slavery in the country (1888). Later this space was called by Heitor dos Prazeres, as "Little Africa" and it is nowadays considered a historical heritage of the city. Another historical legacy is the Favela da Providência, that was the first home of the former slaves, who mostly came from the rural areas, in the southeast region of Brazil. 
However, it is fundamental to point out that the prohibition of legal slavery in the XIX century, was not relevant to the end of this heinous form of subordination of human beings. Since then, conditions analogous to slavery still exist in its worst forms in Brazil, and the city of Rio de Janeiro is not an exception. As understood by relevant scholars and institutions worldwide, modern slavery is one of the main challenges to the development of any country or place and a human rights' violation, because it is essentially corelated to socioeconomic vulnerabilities that are still perceived in contemporary era, such as: poverty, inequality, segregation, racism, gender discrimination, physical and mental disabilities. 
This way, it is fundamental that BRICS Policy Center is also a reliable space for discussion of such a sensitive agenda in the intellectual, socioeconomical and political fields. With a multidisciplinary team that is restlessness, motivated, and composed by social organizations, local leaderships and several academics around the globe, the Modern Slavery Research Center wants to give voice to the victims and oppressed, for it believes that efficient matters to find concrete results for the fight against modern slavery depends on analysis and investigations that include both classic methods and different approaches.
"Mãos à Carne" Documentary
The film aims to create a debate on the construction of public policy to combat crime and its functionality by demonstrating the current situation of contemporary slavery in Brazil in the livestock sector. By observing the role of the active organizations (public, private, and civil society) in this agenda, it aims to bring knowledge about Brazilian slave labor in livestock, so that, through understanding the entanglement of this situation, it can reach possible joint solutions with actors on the agenda.
Global Cities Free of Slavery Project – GCFS
The Project of a network of Global Cities Free of Slavery is built in a context of existing place-based anti-slavery initiatives to fight the crime of modern slavery, starting with the cities of Rio de Janeiro – Brazil, Nottingham – United Kingdom, Bangkok – Thailand and Maputo – Mozambique. Assuming that knowledge exchange between local actors contributes to deliver an efficient anti-slavery response in a global scale, a network of local governmental agents and social society institutions is on track to be implemented and open to the ones who wish to engage in studies and advocacy to eradicate modern slavery in the world.
The GCFS Network encourages its members to link policymakers, academics, local officials, law enforcement and NGOs with an interest in civic and place-based responses to modern slavery, providing cooperation in the matters of slavery, and co-related crimes. With this international cooperation we intend to build a common ground of understanding to develop, scale and share sustainable approaches to fight modern slavery.
Partners
Rio de Janeiro:
Public Sector: State Commission to Fight Modern Slavery; Public Defender's Office; City Hall; Regional Superintendence of Modern-day Slavery; Federal Road Patrol; Labor Prosecutor's Office; Public Prosecutor's Office.
NGO: CARITAS Arquidiocesana; Cooperativa Maravilha; Conexão G!; AprendIN.
Academia: PUC-Rio (BPC); UFRJ (GPTEC).
Nottingham:
Public Sector:

Nottingham City Counci.

Academia: University of Nottingham (Rights Lab); United Nations University.
Bangkok:
NGO: A21.
Academia:

Chulalongkorn University.
Maputo:
Academia: Eduardo Mondlane University.
---
Global Cities Documentary (Part 1)
Global Cities-Cidades Globais
from
Luiz Eduardo Lerina
on
Vimeo
.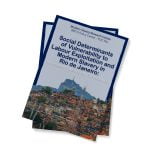 This report stresses an intersectional analysis to explore the social determinants of vulnerability to labour exploitation and modern slavery in the city and urban sites.
The monitor aims to bring preliminary results of emergency aid programs in Brazil, the impact of the pandemic on the world labor market and, finally, to draw attention to the...

We're honored to release the guide "Tackling slavery in supply chains: lessons from Brazilian-UK beef and timber", directed to supply chain managers and procurement professionals who wish to tackle slavery...
I Webinar "Global Cities Free of Slavery partners forum: a Covid-19 impact analysis"
With the spread of the Covid-19 virus worldwide, the Global Cities Free of Slavery project-oriented its debates on the effects of the pandemic on patterns of modern slavery, considering the impact of emergency state policies on the labor market. Emerging official and civil society evidence (IBGE, 2020, Walk Free 2020, and ILO 2020) have shown that the pandemic has exacerbated injustices and inequalities, hitting minorities, women, and informal workers and resilience of social groups that remain invisible to the state measures. These themes were debated on the I Webinar "Global Cities Free of Slavery partners forum: a Covid-19 impact analysis", held on an online platform on July 30th, 2020.
Related Publications
---
Also, access the report  "Global Cities Free of Slavery partners forum: a Covid-19 impact analysis". 
The workshop Global Cities Free of Slavery, held in Rio de Janeiro at BRICS Policy Center, is the first step towards the construction of a network of global cities engaged in the eradication of modern slavery. This dialogue started between the cities of Maputo, Bangkok, Nottingham and Rio de Janeiro, with the presence of the civil society which carries on placed-based responses to slavery in Rio de Janeiro[1]. The workshop was also attended by distinct members of the Labour Prosecutor Office, Anti-slavery Regional Secretariat, Public Defence Office, Public Prosecution Service, and human rights and social work state and municipal secretariats' members.
Related Publications
---
Access the briefing  of the I Workshop Global Cities Free of Slavery no Rio de Janeiro by Silvia Marina Pinheiro and Heloisa Coutinho Calmon Nogueira da Gama.