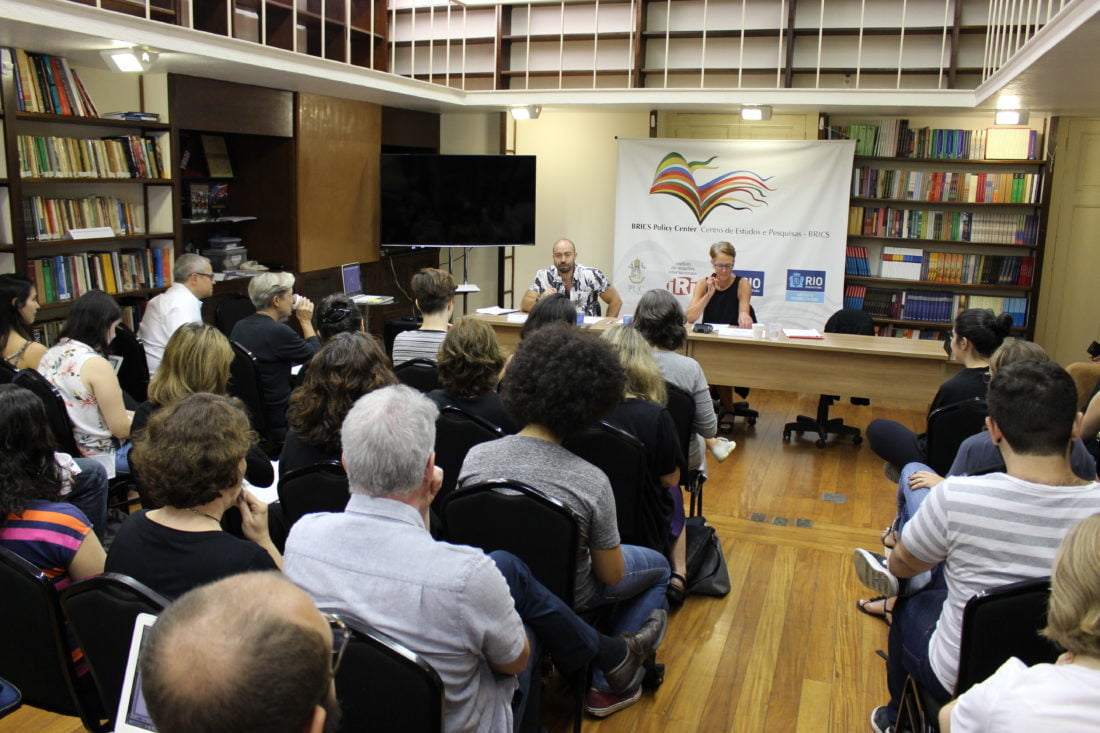 Judith Butler e Wendy Brown participate in an internal seminar in BRICS Policy Center
On Monday, November 13, the PUC-Rio International Relations Institute was honored to receive Professors Judith Butler and Wendy Brown, both from the University of California-Berkeley, at an in-house seminar with the participation of faculty, doctoral students , and master's degrees from the institute and researchers at the BRICS Policy Center. They were passing through Brazil to participate in the international seminar "The End of Democracy", held in early November at Sesc Pompeia, in São Paulo.
With the mediation of Professor Jimmy Casas Klausen, Wendy Brown organized her presentation on freedom and the "social" war in authoritarian politics of the twenty-first century (Freedom and the War on the 'Social' in Twenty-First Century Authoritarian Politics). She developed questions about what produced the new fusion of freedom, nationalism and authoritarianism that takes shape in Atlantic Europe, and what is the contribution of four decades of neoliberalism to the construction of plutocratic political regimes rooted in a neofacist popular sentiment, precisely the nightmare which the original intellectuals of neoliberalism try to avoid. This is a work in progress of prof. Brown, also presented in a shorter form at the international SESC seminar.
Judith Butler, however, sought to analyze the idea of vulnerable populations and criticized the tendency to naturalize or essentialize the understanding of "vulnerability" as an attribute of people rather than seeking to understand it as a social relation and, above all, as a function of our ties training and transformation. Understood thus, vulnerability becomes a possibility for agency and political action. Her research addresses, in addition to issues of gender and sexuality, critical theory, comparative literature, continental philosophy of the 19th and 20th century, social and political thinking, philosophy and literature.
Both teachers are located in the field of critical studies of International Relations (IR) and Political Science, inaugurating theoretical debates that take from the central axis of these disciplines the notions such as State Nation, neoliberal economic thought and "self-made man". The two presentations together help IR researchers understand new configurations of domination and new resistance joints in a changing global power topography.
The activity with Brown and Butler is not only actively related to the research carried out by professors of IRI / PUC-Rio, but also as part of an ethical commitment by the Institute to the promotion of critical debate on themes fundamental to a just social transformation and egalitarian.
The seminar was held at the BRICS Policy Center in Rio de Janeiro