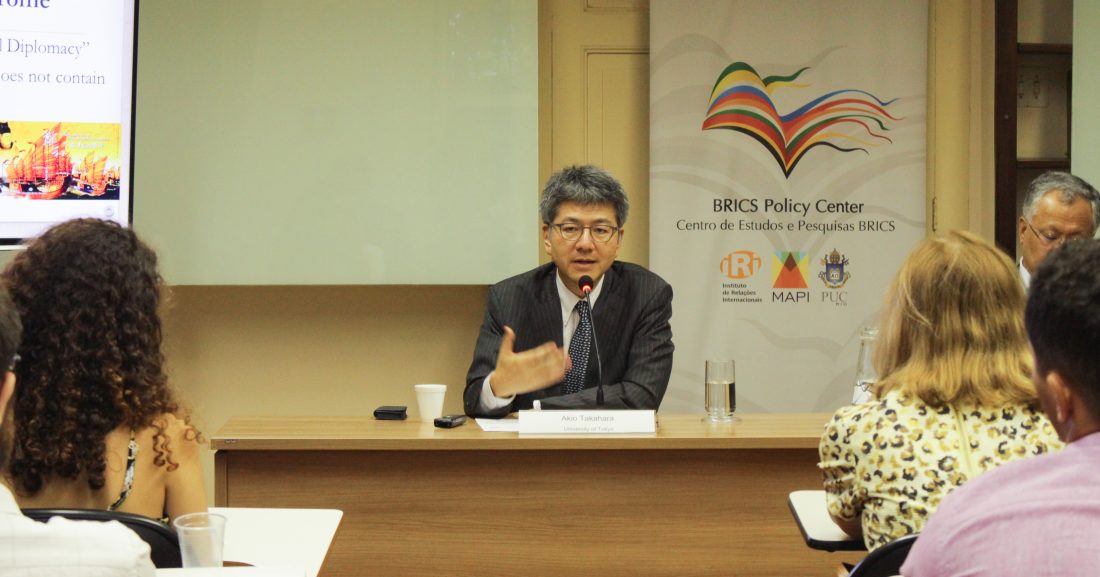 4 de December de 2019
In
News
Joint lecture with the Japanese Consulate discusses external Chinese politics and their relationship with Japan
On November 26, the BRICS Policy Center, in conjunction with the Consulate General of Japan in Rio de Janeiro, organized the lecture "Belt and Road Initiative and the free open Indo-Pacific vision", delivered by Dr.Akio Takahara from the University of Tokyo. Others who were present at the debate table include the Consulate General of Japan, Tetsuya Otsuru, and the Director of BPC, Dr. Paulo Esteves. This was an important opportunity for the think tank and the consulate to be able to tighten links for future academic collaborations.
At the lecture, professor Takahara, specialist in Chinese politics and its international relations with East Asia, presented a general vision of the large project of Chinese investments titled "One  Belt, One Road". This initiative, put forward by the government for the first time ini 2013, consists of a series of investments, above all in the areas of transportation and infrastructure, connecting the continents of the world as much by land as by maritime passageways. Additionally, it was highlighted that in consequence of this project, China intends to create bilateral accords with various interested countries.
Access the complete content of the presentation here.
On a visit to BPC, representatives from the Japanese Consulate deepen cooperative linkages. 
Because of the event, the BRICS Policy Center received an important visit the previous week from the Consul and the Vice-Consul of Japan, Rina Ishikawa and Keiko Kikuchi, respectively. They came to see up-close the research agendas developed by the Center and also to discuss the possibility of future collaborations. They were shown the developed programs of research, and, in particular, the LACID (Laboratory of Cooperation and Financing for Development)– which currently conducts relevant research on the economic influence of China in Latin America.