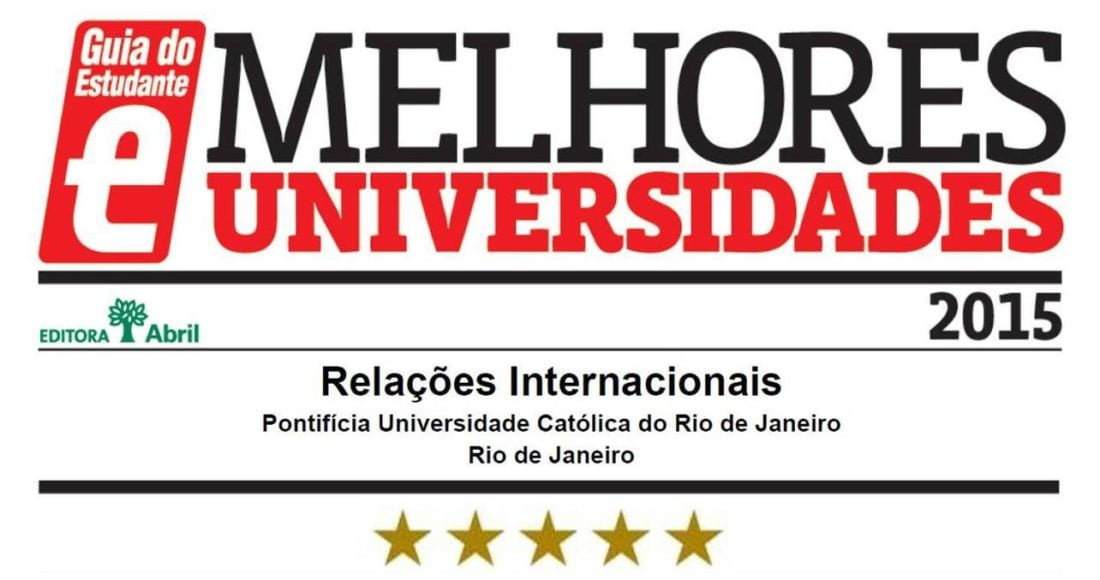 15 de February de 2016
In
News
IRI/PUC-RIO PLACED BETWEEN THE TOP 5 BRAZILIAN UNIVERSITIES IN INTERNATIONAL RELATIONS
The International Relations Institute of PUC-RIO (IRI/PUC-Rio) has been rated 5 stars by the "Guia do Estudante", placing PUC-Rio in between the top 5 Brazilian universities in International Relations course.
The "Guia do Estudante" is a family of Editora Abril publications, with over 25 years of existence, which shows information about academic professions in Brazil, showing how the course, the labor market, areas of operation, tips on how to pass the entrance exam and in which university study.
The Undergraduate program in International Relations (IR) of PUC was established in 2003 and reflects the experience accumulated by the institute for over 30 years in research and graduate teaching. The undergraduate pedagogic project combines three dimensions: articulation between theory, methodology and practice; curricular flexibility; specialization in IR for work practice. The curriculum structure provides a solid background in key areas of the International Relations discipline; a wide range of electives in basic and advanced topics, as well as courses on politics and economics of various regions. Thus, students can develop learning paths, such as International Cooperation and Development, International Trade, International Conflict and Scientific Research.