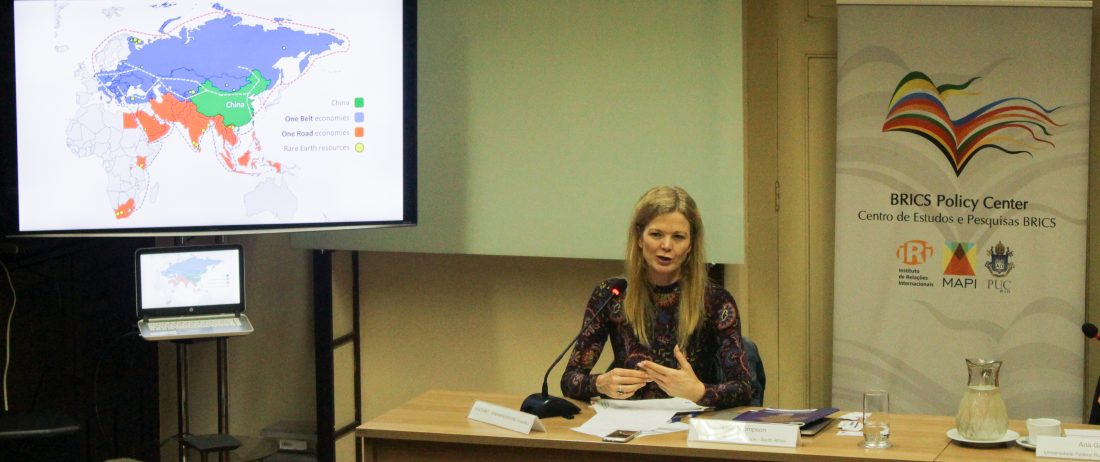 In its third edition, "BRICS Series" addresses China's role in the development of the Global South
The BRICS Policy Center organized, on October 26th, the third lecture of the "BRICS Series", named "The role of China in reframing development in the Global South: a view from South Africa". The event aimed to debate the leadership role that China has been assuming in the development of the Global South through its investments in infrastructure and also through its increasingly commercial cooperation.
On the occasion, Dr. Lisa Thompson presented her local perspectives with an interpretation coming from South Africa, and how the Chinese investments are shaping SA development. Lisa Thompson is Professor and Director of the African Centre for Citizenship and Democracy at the University of Western Cape, South Africa. Currently, Dr. Thompson works with her research about development in BRICS and in the Global South, in addition to cooperating with studies and debates about the fair transition concerning the multilateral platforms of BRICS and G20. Read the policy work paper co-edited by Lisa Thompson, titled "Adverse international and local conditions for South Africa's Special Economic Zones".
The lecture is a continuation of the series of events about the BRICS organized by BPC on the occasion of the 2019 Summit, to be hosted in Brazil. The "BRICS Series" inauguration previously featured a lecture by Professor Paulo Nogueira Batista Jr. on "The New Multilateral Development Banks (NDB-BRICS and AIIB) and the International Financial System". Similar meetings will be held by BPC over the coming months. Then the second lecture approached the topic "National System of Innovation of BRICS" with Professor José Eduardo Cassiolato. 
To access the live transmission of the event, click here. Also, access the complete content of the presentation below.