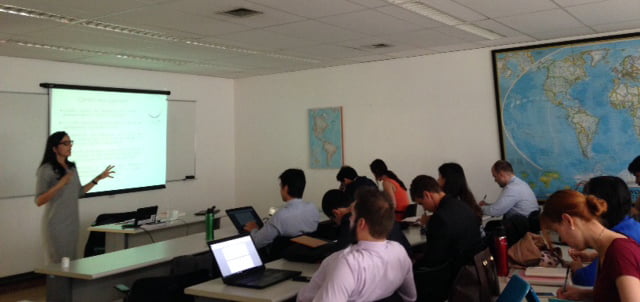 21 de September de 2015
In
News
GSUM TEACHES COURSE ON CONFLICT RESOLUTION AND INTERNATIONAL MEDIATION IN RIO BRANCO INSTITUTE/BRAZILIAN MINISTRY OF FOREIGN AFFAIRS
The Global South Unit for Mediation (GSUM), in partnership with the BRICS Policy Center (BPC) and through the International Relations Institute of PUC-Rio (IRI/PUC-Rio), offered a module on "Conflict Resolution and International Mediation" at the Training Course of Rio Branco Institute (MRE).
Between the 14th and the 18th of September, professors Monica Herz (IRI/PUC-Rio), Maira Siman (IRI/PUC-Rio), Paulo Esteves (IRI/PUC-Rio) and Claudia Fuentes (IRI/PUC-Rio) discussed various topics related to the field of Conflict Transformation and Resolution, Peacebuilding and International Mediation. Besides discussing the prospects and classic concepts of the area, the professors stimulated discussion on the interface between mediation, political conflict resolution and development. The course also discussed aspects of violent conflicts in Latin America and the mechanisms of prevention and resolution available in the region. The final lesson of the course, conducted by Ambassador Gelson Fonseca Junior, was dedicated to the discussion about the Brazilian experience in the field of international mediation.
Picture: GSUM
The students and diplomats attending the classes have raised important questions on the potential of Global South countries in conflict resolution at both regional and international levels.
Picture: GSUM