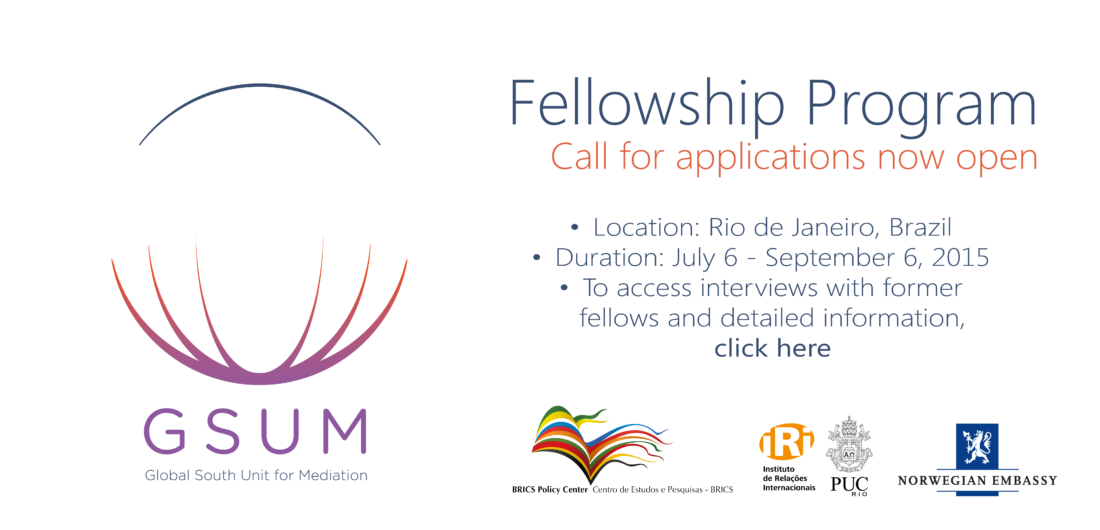 5 de January de 2015
In
News
GSUM IS NOW ACCEPTING APPLICATIONS FOR 03 OPEN POSITIONS AS VISITING FELLOWS
The Global South Unit for Mediation (GSUM) is now accepting applications for 03 open positions as Visiting Fellows, from July 06th to September 06th 2015, to research, teach and debate on topics related to conflict resolution and mediation processes. Fellows will stay in Rio de Janeiro, Brazil, during the time of the fellowship and will be provided with a stipend and a working space at the BRICS Policy Center (BPC).
The Unit will provide each fellow with a working space (including a desktop computer and internet connection) at the BPC historic headquarters, the Affonso Arinos House. BPC is located in Botafogo, a dynamic neighborhood and major transportation hub in Rio´s South Zone.
GSUM will cover the costs of the airfare to/from Rio de Janeiro and a stipend of R$7.500,00 Brazilian Reais per month. This amount should cover accommodation, local transportation and food expenses during the stay in Rio.
Deadline for applications April 5th 2015.
For full details about the Fellowship and information on how to apply, click here, and for the application form, click here.
Watch the interviews with former fellows here!