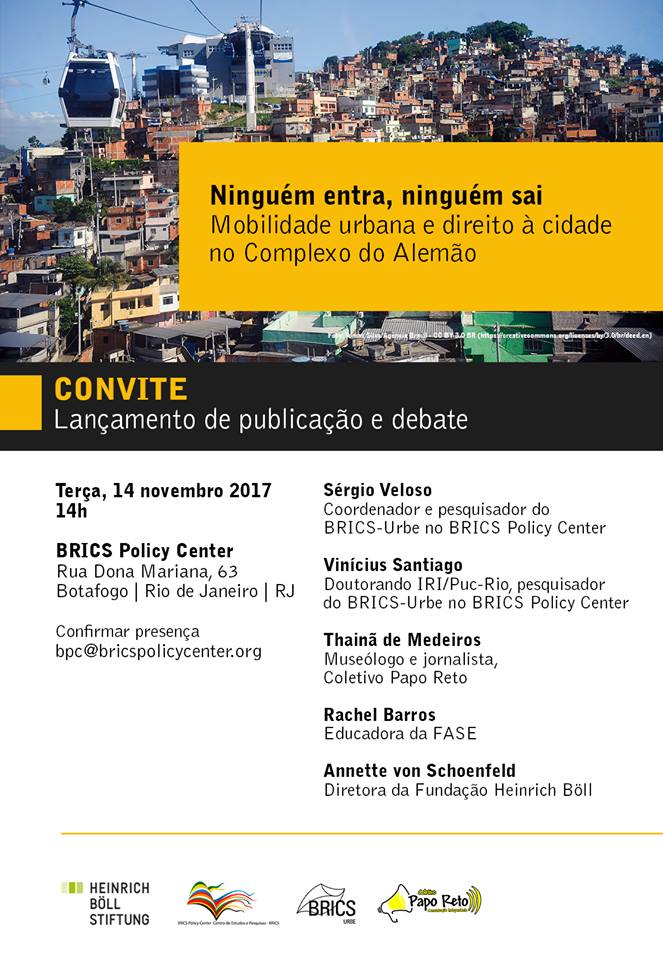 On November 14th, 2017, Tuesday, at 2 p.m, the BRICS Policy Center will host the launching of the publication: "Ninguém entra ninguém sai. Mobilidade urbana e o direito à cidade no Complexo do Alemão". The publication was produced jointly by the BPC, Papo Reto and the Heinrich Böll Foundation.
The debate will be mediated by Annette von Schoenfeld, Director of the Heinrich Böll Foundation, and at the table will be the two authors of the book, Sérgio Veloso and Vinicius Santiago, researchers at the BRICS Policy Center. Thainã de Medeiros, from Coletivo Papo Reto, and Raquel Barros, from the NGO Fase, will also be present.
Follow the event here. 
We kindly ask you to R.S.V.P. to bpc@bricspolicycenter.org – Limited Seats. 
The event will be held in Portuguese, with no simultaneous translation.