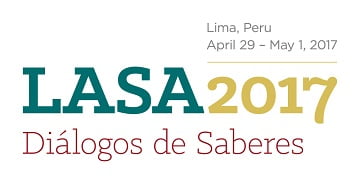 Between April 29 and May 1, 2017, in Lima, Peru, GSUM researchers will participate in the Annual Conference of the Latin American Studies Association (LASA), whose theme will be 'Dialogues of Knowledge'.
The Global South Unit for Mediation (GSUM) will be represented at two panels at the LASA Annual Conference. One of them, entitled 'Concepts, theories and practices in international peace mediation and peacebuilding', was organized by Prof. Maira Siman Gomes, GSUM's deputy coordinator. This panel aims to discuss the concepts and practices involved in the different stages of the conflict resolution process that imply a dynamic of inclusion/exclusion. The panel is constituted by the following papers: 'Weapons and International Mediation', by Profª. Mônica Herz, GSUM coordinator; 'Beyond the gender talk? Gendering mediation and conflict resolution in Latin America', by Profª. Paula Drumond, GSUM researcher; 'The Peace process as 'another place': analyzing the encounter between the virtual/virtuous (negotiated) peace and the normalized political terrain', by Prof. Maira Siman Gomes, Prof. Marta Fernandez, from the Institute of International Relations (IRI/PUC-Rio), and Isa Mendes, GSUM research assistant; and 'The Gang Truce in El Salvador: Modern Practices in Time and Space', by Pedro Maia, GSUM research assistant.
The panel 'Regional Practices and Challenges in Conflict Resolution in Latin America' that aims to discuss the contributions of the adoption of a Latin American point of view for conflict resolution, will also count with the participation of the GSUM team. Prof. Claudia Fuentes, who is also organizing this panel, will present the paper 'Brazil in Conflict Resolution: Principles, Policies, and Practices' and Prof. Mônica Herz will discuss this and other papers.
For further information regarding the conference, click here.