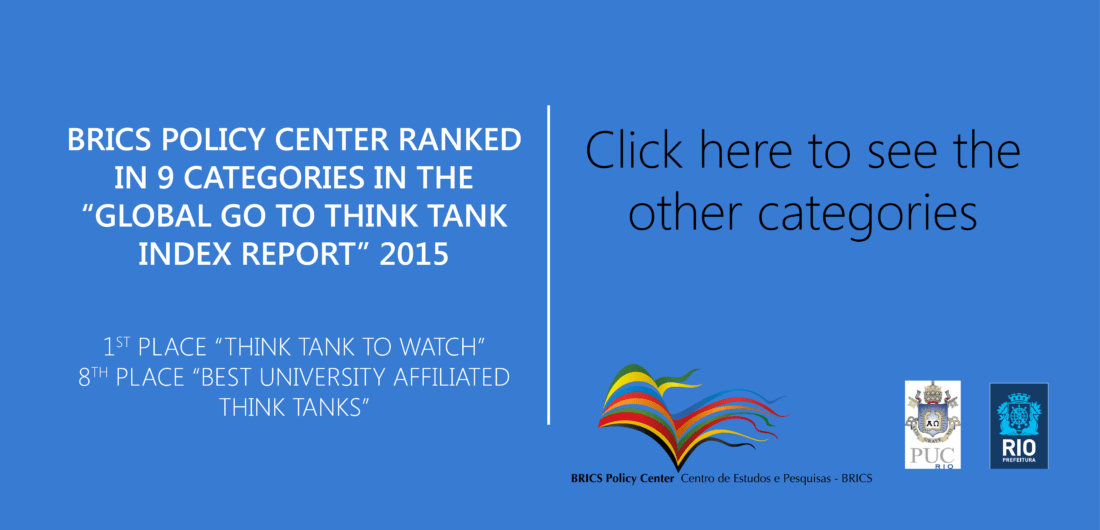 27 de January de 2015
In
News
BRICS POLICY CENTER FEATURES IN 9 CATEGORIES, INCLUDING THE 8TH PLACE IN "BEST UNIVERSITY AFFILIATED THINK TANKS"
The Centro de Estudos e Pesquisas BRICS /BRICS Policy Center (BPC), the result of a partnership between the Institute of International Relations (IRI) at PUC-Rio and the City of Rio de Janeiro, was chosen for the fourth consecutive year as one of the best Think Tanks in the world. The classification appears in the report "Global Go To Think Tank Index Report", 2015 – an initiative of the University of Pennsylvania (USA). The report is considered one of the world´s most comprehensive and evaluated 6,681 think tanks from all regions of the globe.
In this report, referring to the year 2014, BPC appears in 9 categories, one more than last year. In 2014, BPC reached the 8th place in "Best University Affiliated Think Tanks" (in 2013 had reached 9th place) and in 1st place in the category "Think Tank to Watch", for the second consecutive time. Another highlight was the classification of the Policy Brief "Brazil and South-South Cooperation: How to Respond to Current Challenges" under the top 50 studies/reports produced in 2014. The Policy Brief is available here.
The mention of the BRICS Policy Center is on pages 118, 120, 123, 125, 127, 130, 132, 134 and 136 of the report, which can be accessed through the link:  http://goo.gl/Vw2r8o.
This recognition is a result of the collaboration, commitment and dedication of BPC and IRI`s team, as well as the support from PUC-Rio, the City of Rio de Janeiro and the Brazilian and foreign partners of this project. The BRICS Policy Center thanks everyone involved for their contribution and we are increasingly motivated and committed to produce an outstanding work.