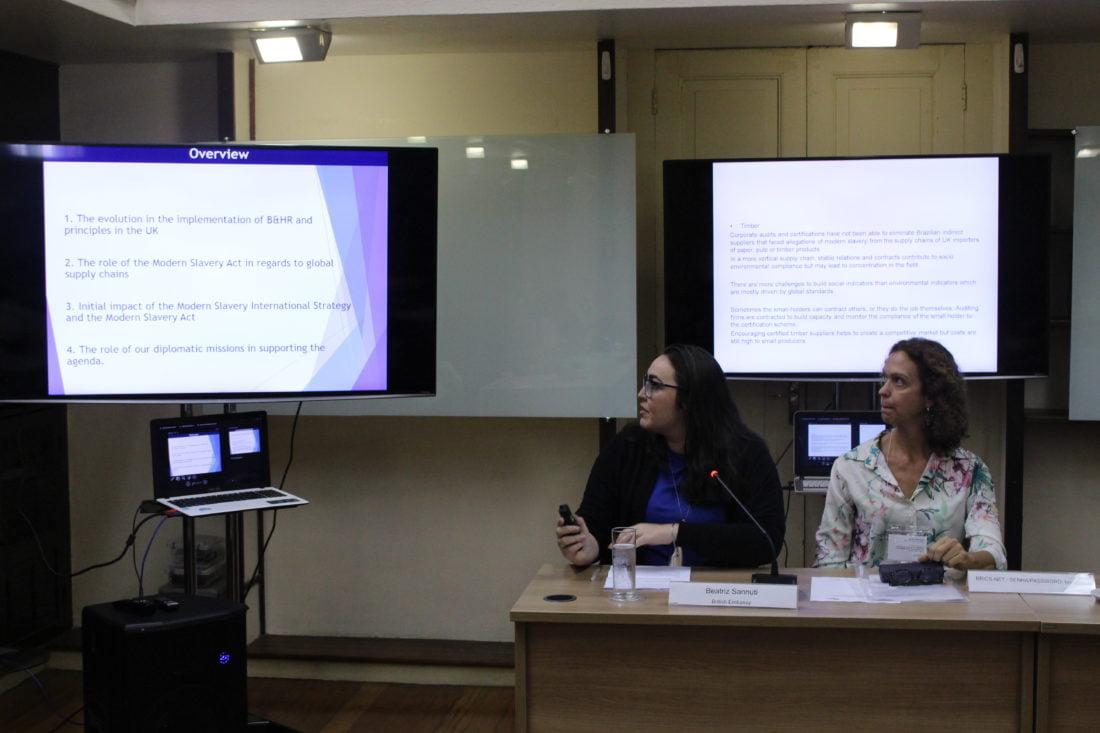 5 de December de 2018
In
News
Workshop: The impacts of anti-slavery legislation on the design of the UK-Brazil beef and timber supply chains
On November 22, 2018, the BRICS Policy Center hosted academics and professionals for the Validation Workshop The impacts of anti-slavery legislation on the design of the UK-Brazil beef and timber supply chains, which was a follow up of the workshop The Interaction of Socio-Environmental Requirements and Supply Chain Management, hosted by BPC in April.
This workshop aimed to present the state of the research on the UK-Brazil beef and timber supply chains and the impact of the various legal and soft-law mechanisms on the eradication of modern slavery on these supply chain designs and practices.
Experts from Repórter Brasil, the Corporate Responsibility Coalition (CORE), the Business and Human Rights Resource Centre and the University of Nottingham were reunited in order to deepen the debate about anti-slavery and UK-Brazil beef and timber supply chains that was initiated in the first exploratory workshop in April 2018.
For Guilherme de Almeida from USP, contemporary slavery is a global problem, although its implications are local.
– These productive chains are global, therefore, there should be a global responsibility. There must have a discussion about the importance of information.
Beatriz Sannuti of the British Embassy spoke about the effort that the UK has made so far to deal with the issue. According to her, the UK has committed to promote the antislavery agenda in the country and in the world by strengthening national confronting policies, establishing partnerships with companies for awareness and advocacy and creating international coalitions.
During the first round table, the experts highlighted that Brazilian policies focuses on major producers and leaves behind small farmers, who don't have access to funding lines, but still have to bear high costs on certifications and to respond any compliance rules by themselves. They also noted that Brazil has a good legislation but weak enforcement power.
Brazil is a very relevant player into the agenda of fight against modern-day slavery, according to Mércia Silva of InPacto, although the enforcement and awareness needs to keep evolving. She also stated that there is a need to engage the civil society and government to pressure the companies to tackle modern-day slavery and international requirements in general.
The outcome of the workshop included some proposals from the experts. Among what they suggested are engaging with organizations with indirect suppliers that works with different strategies to certify supply chain; creating advocacy strategies to pressure the government to create ways to finance actions to make sure that the supply chains are being well certified; and using the highest standards of human rights laws in the countries to pressure the companies to give better conditions to workers internationally. They also pointed that the most powerful actor in the supply chains should be the responsible to implement the policies to tackle modern-day slavery.