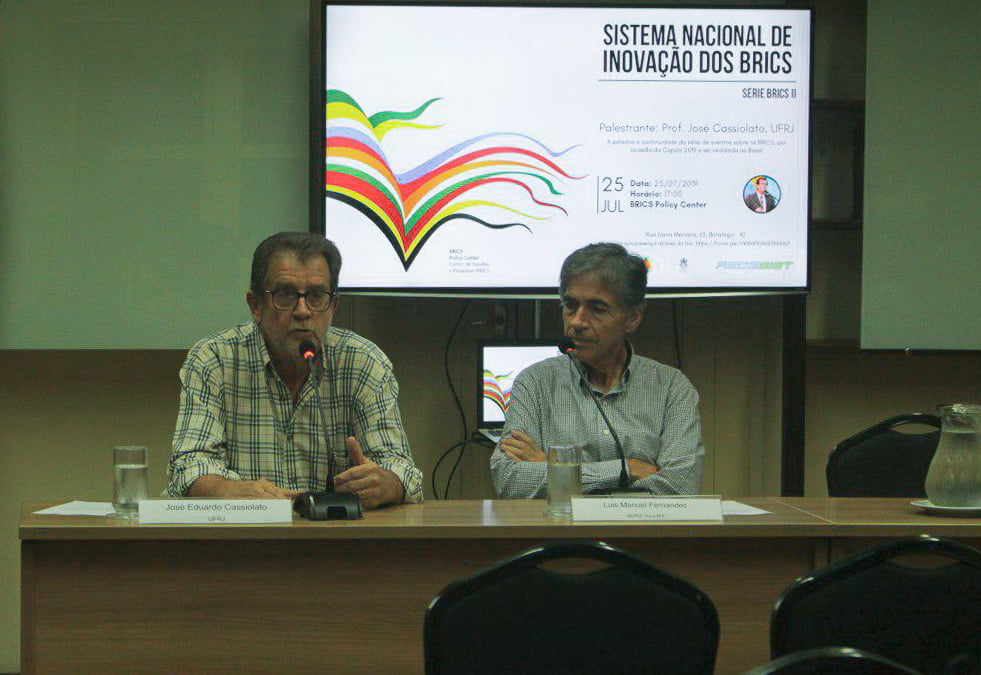 12 de August de 2019
In
News
The second event of the "BRICS Series" discusses the BRICS national innovation systems
On July 25, 2019, BRICS Policy Center hosted the lecture "BRICS National Innovation System", given by the Economist José Eduardo Cassiolato, associate professor at the Universidade Federal do Rio de Janeiro (UFRJ) and RedeSist Coordinator. The debate was also attended by Luis Manuel Rabelo Fernandes, professor at IRI/PUC-Rio and coordinator of the Innovation and Governance of Development Program (PIGD).
The lecture is a continuation of the series of events about the BRICS organized by BPC on the occasion of the 2019 Summit, to be hosted in Brazil. The "BRICS Series" inauguration previously featured a lecture by Professor Paulo Nogueira Batista Jr. on "The New Multilateral Development Banks (NDB-BRICS and AIIB) and the International Financial System". Similar meetings will be held by BPC over the coming months.
At the event, Cassiolato sought to discuss the role of BRICS public and private sector institutions in the development of new innovative technologies, as well as to discuss the current framework in which these systems find themselves, also their limitations and future perspectives. The professor highlighted in detail the processes present in Brazil, Russia, India, China, and South Africa, in the view of the effects that the 2008 crisis had on the development of Research and Development (R&D) of these countries.
For the economist, the crisis had a multifaceted aspect and presented significant factors that justify its persistence: the hypertrophy of markets and financial assets, and the sharp increase in inequality of income distribution. Since 2011, this situation has deepened, affecting production, investment and international trade, which has experienced a large increase in protectionism.
At the end of the event, the audience attended an open debate on the issues raised throughout the lecture and also discussed the research agenda on the BRICS national innovation systems, since, according to Cassiolato, it is necessary to move forward on a conceptual and methodological collective proposal capable of discovering the dynamics of sustainable and socially inclusive systems of innovation, especially those that are often left out of usual academic research and public policy.