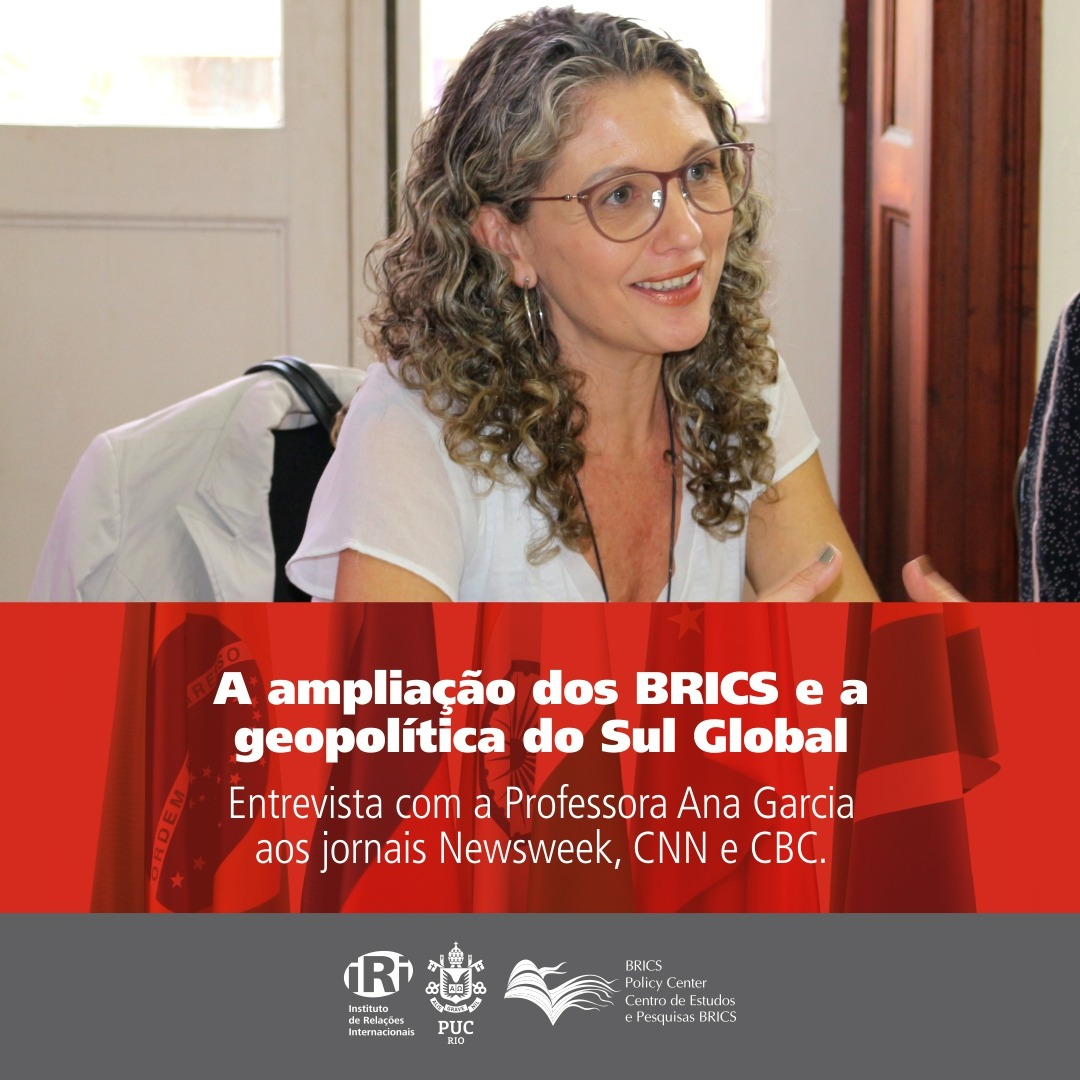 The expansion of the BRICS and the geopolitics of the Global South: Interview with Ana Garcia for Newsweek, CNN and CBC News
On August 22, Ana Garcia, professor and general coordinator of the BRICS Policy Center, gave Newsweek an interview on the geopolitical implications of new members joining the BRICS bloc. According to the professor, there is a growing view in the bloc that a strong BRICS can be a great BRICS. In addition, she affirms the importance of the geopolitical aspect of the bloc, and not just the economic one, which attracts various countries affected by the policies of the Western powers, diminishing the strength of the United States in the Global South.
Regarding the redirection of the BRICS' focus, Ana states in CBC News that this transition has been accelerated by the context of tensions between China and the United States and, more recently, the war between Russia and Ukraine. Thus reinforcing the idea of challenging the ideologies of Western powers and unipolarity.
For CNN, Ana explores this idea of attracting new members as a new possibility in the face of the economic disposition of the international system, saying that the bloc acts as a kind of magnet. The BRICS space is essential for strengthening alliances and cooperation, without the debate having to go through the Western economic powers.
Also for CNN, Ana discusses the changes in the bloc's focus and offers a diagnosis of the development of the member countries from the group's creation to the present day. For her, the BRICS have ceased to be a group with purely economic and reformist objectives and have now taken on a more geopolitical focus, with aspects of multipolarity. Ana also states that the member countries no longer have the same economic characteristics as they did at the beginning of the bloc, and have even lost the denomination of "developing countries", such as China and Russia.
Check out the full reports on the Newsweek, CNN and CBC News websites:
Newsweek
CNN (only in Portuguese)
CNN (only in Portuguese)
CBC News