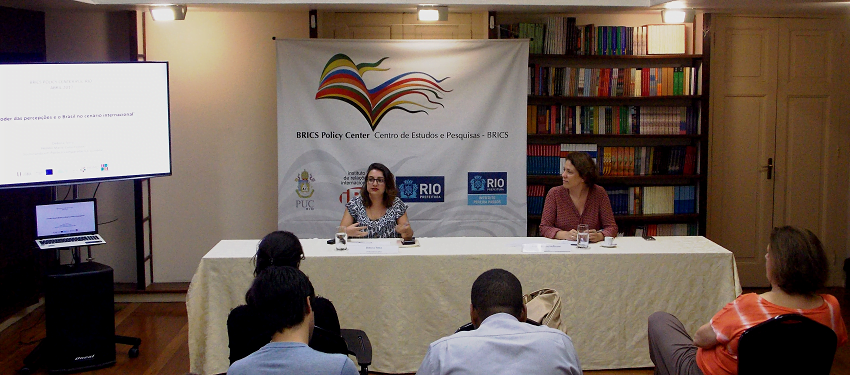 THE CONCEPT OF PERCEPTION IS DISCUSSED BY DÉBORA TERRA IN A COLLOQUIUM AT THE BRICS POLICY CENTER
On April 11th, 2017, the BRICS Policy Center held the colloquium "O Poder das Percepções e o Brasil no Cenário Internacional" – resulted from the work of visiting researcher Débora Terra (University of Lisbon) – who is in the Center through the program Power and Region in a Multipolar Order (PRIMO). The colloquium counted with the presence of Prof. Andrea Ribeiro Hoffmann from the International Relations Institute of PUC-Rio who acted as discussant.
Throughout the colloquium several issues related to the concept of perception on the International Relations' stage were tackled. In that sense, Débora Terra introduced the concept and its impacts on the different and continuous expectations that the international actors have about themselves and the others. In that perspective, however, it should be emphasized that an image is a concept and not a real action.
Terra also pointed out the possible existence of misperceptions about ourselves and the others. For example, the perception of Brazil as a key actor on the security issues may be wrong, and that could lead to inaccurate actions for the country. However, in the environmental area Brazil is aware of its significant influence, so it reduces the possibility of misperceptions and leads to more suitable behaviors.
According to Débora Terra, "the external perceptions explain to what extent the actors of the international system are being globally consolidated and legitimate theirs actions". The Power of Perceptions shows, consequently, that perceptions have an impact on our own actions and the actions of the others.