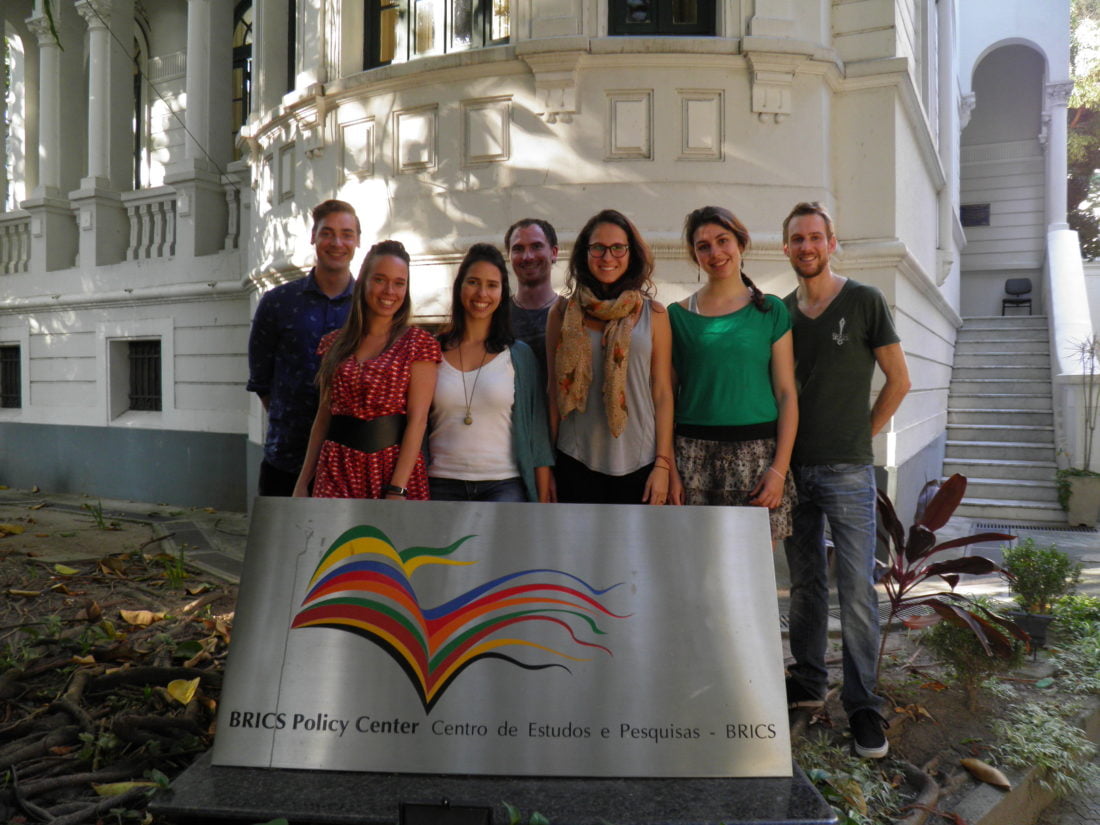 7 de October de 2014
In
News
SOUTH-SOUTH COOPERATION PROJECT RECEIVES FOREIGN INTERNS
The BRICS Policy Center, through its South-South Cooperation project, received three foreign volunteer-interns from August to September: John Meylan, Victoria Waldersee, and Jan Schablitzki- who came to Rio de Janeiro in order to contribute to the research project on Brazilian cooperation in the areas of agriculture and health in Angola and Mozambique.
According to John Meylan – a Master´s student at Unil-Geneva University – development studies are extremely focused on multilateral cooperation and the models and practices of the North, tending to deny the South-South practices, given the biased international cooperation.  Victoria Waldersee – student at the University of London – believes that the initiatives of the South-South Cooperation are relevant to the changing connotations of "development", from an industry based on dependent relations between donors and aid recipients.  Jan Schablitzki – a Master´s student at Universität Duisburg-Essen, thinks that the study of South-South Cooperation allow for a deeper and more expansive knowledge about concrete projects, such as developing cooperation between Brazil and Africa.
During their time with the BRICS Policy Center, each of the interns was involved in a specific activity which will be released soon. Certain products circulated the Cooperation Center and were discussed together in order to stimulate a cultural exchange between the foreign students and the research lines developed by the Center.
Jan Schablitzki conducted research on the BRICS countries´ decision to establish a development bank at the last summit of the group in Fortaleza of July 2014.  The Policy Brief suggests that the foundation of the bank represents an important step in institutionalizing cooperation between the BRICS countries and that it could become a counterpoise to the existing financial institutions.  The new bank can serve as an important instrument for South-South Cooperation.  However, the future role of the bank will depend on the development paradigm that the member countries adopt in their financial policies.
Victoria Waldersee developed a Factsheet comparing Brazilian and Chinese private investment in Sub-Saharan Africa.  From recent data, the survey presents a map of private investment from both countries in Angola and Mozambique, indicating its expansion and diversification.  Such intensification of relations has also been accompanied by greater engagement in corporate social responsibility projects on the part of these actors.  Thus, it identifies potential contributions from private Brazilian and Chinese companies towards the development goals as well as South-South Cooperation from an emphasis on sustainable development, in infrastructure projects and the creation of local markets.
We would like to thank CCCI and the interns John, Jan, and Victoria for their research and participation in the Cooperation Center and SSC-Project, and we hope to develop new projects together with Unil-Geneva University, Universität Duisburg-Essen, and University of London.