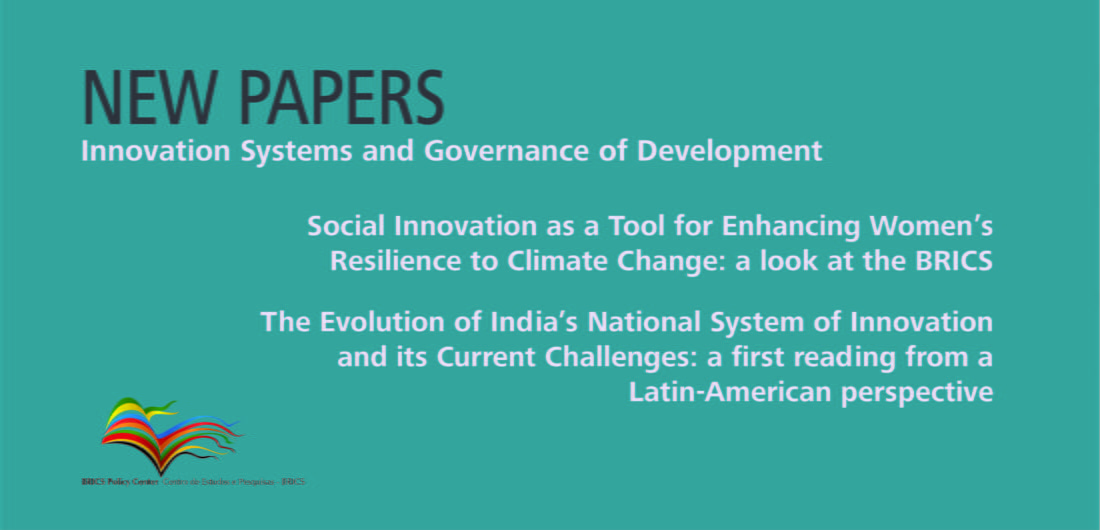 14 de June de 2016
In
News
NEW PAPERS – INNOVATION SYSTEM AND DEVELOPMENT GOVERNANCE
The evolution of India's National System of Innovation and its Current Challenges: a first reading from a Latin-American perspective (Available in Portuguese only) 
This paper presents a preliminary historical reading of the evolution of India's NSI since independence to the present day, and its main current challenges. It is a work that is part of an effort still underway, which seeks to understand the technological trajectory of India in historical perspective, in the light of some analytical and conceptual tools formulated by authors linked to the Latin American school of thought in Science, Technology and Development and Latin American structuralism.
Social Innovation as a Tool for Enhancing Women's Resilience to Climate Change: A Look at the BRICS
This paper explores the relationship between climate change and gender with a special focus on the BRICS countries. It argues that social innovations constitute tools for enhancing women's adaptive capacity. We first examine how women are severely affected by climate change and greenhouse gas emissions, particularly in rural areas. We then emphasize the need for more gender-sensitive social innovations to tackle such effects, and provide a few examples within the BRICS. The hope is that more gender-sensitive solutions can spread worldwide, contributing to safeguarding the livelihoods of women not only in the BRICS but everywhere.