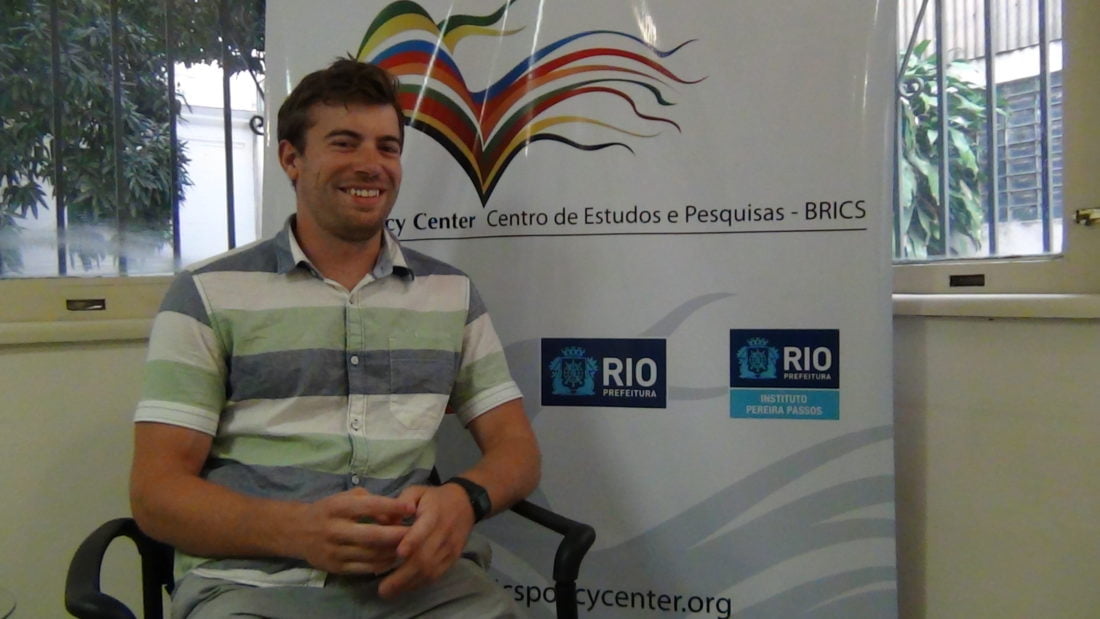 8 de July de 2014
In
News
INTERVIEW WITH THE VISITING FELLOW FROM ENGLAND THOMAS HARDERN
1 -How do you see the partnership between BPC and Igarapé Institute?
There appears to be a great deal of overlap in the interests of the BPC and the igarape institute. It therefore seems natural that they should work together at the local, national and international level to support the interests of the worlds developing countries and emerging powers.
2 -What do you think the two institutions should think as a result of this cooperation?
Cooperation between the igarape and the BPC can only really be viewed in an optimistic light. The fact that they are on each others door step really facilitates this partnership, especially considering they are both based in Rio De Janeiro, arguably one of the most culturally vibrant yet socially unequal cities in any of the BRICS countries.
3 -What did you develop during your stay at BPC?
During my stay at the BPC, I developed an ability to communicate with people of a different language and culture and how to divide my time fairly between working at the different institute. But also, I recognised the importance of stepping out of the academic ivory tower and getting a taste of Brazil first hand.
4 –   What did it help being at BPC during your research?
The BPC provided a fantastic working environment in a beautiful old embassy building in the district of Botafogo. The staff were keen to assist me whenever I needed help whilst being around other students and fellows all striving for similar goals made the process that bit more enjoyable.
5 -What did you think of you experience in Rio de Janeiro and at BPC?
My overall experience of the BPC and of Rio as a whole is one I would thoroughly recommend. It genuinely felt a privilege to be a part of two organisations (the BPC and the igarape institute) who are making real progress on important global issues. Rio itself should be on everybody's bucket list of places to visit. The fact that after only 2 months I feel like I can say I have lived there rather than just visited is a testament to the Carioca people and their lifestyle.