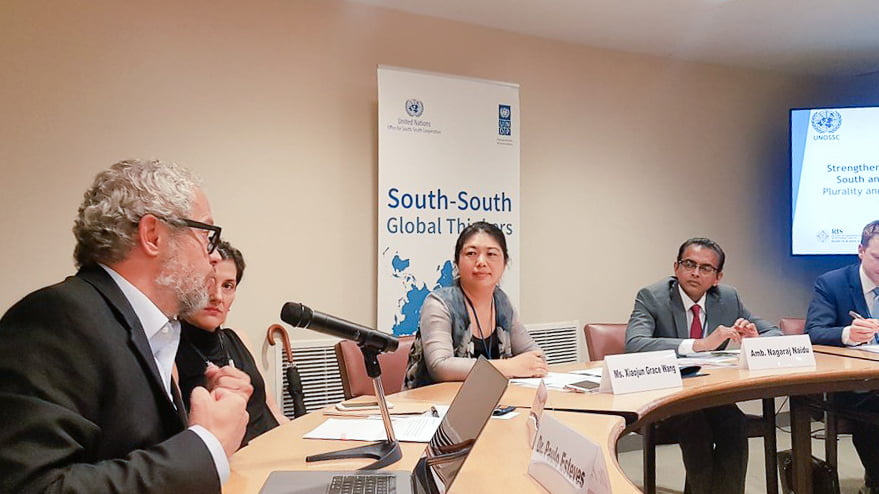 12 de August de 2019
In
News
In side-events to the United Nations High-level Political Forum, BPC discusses the results of the BAPA + 40 outcome document and also the 2019 Human Development Report
On July 17, 2019, BRICS Policy Center Director, Dr. Paulo Esteves, attended the "South-South Global Thinkers Dialogue: Reflection on BAPA + 40 Outcome Document" event, co-hosted by the United Nations Office for South-South Cooperation (UNOSSC) and the United Nations Development Programme (UNDP).
The event took place along the sidelines of the United Nations High-level Political Forum in New York and aimed to bring together Southern think tanks to discuss their reflection on the BAPA+40 outcome document. During the event, Paulo Esteves presented his analysis of South-South Cooperation and also presented research ideas and knowledge initiatives that would be important for Southern Countries and development partners.
On July 18, 2019, the BPC Director also participated in the side event "Consultation with Southern-based Think Tanks for the 2019 Human Development Report", co-hosted by the UNOSSC and the Human Development Report Office (HDRO), which aimed to gather the perspectives and experiences from Southern-based think tanks relating to inequality that would be useful in the formulation of the 2019 Human Development Report.
(Picture: Twitter/@shams_UNOSSC)