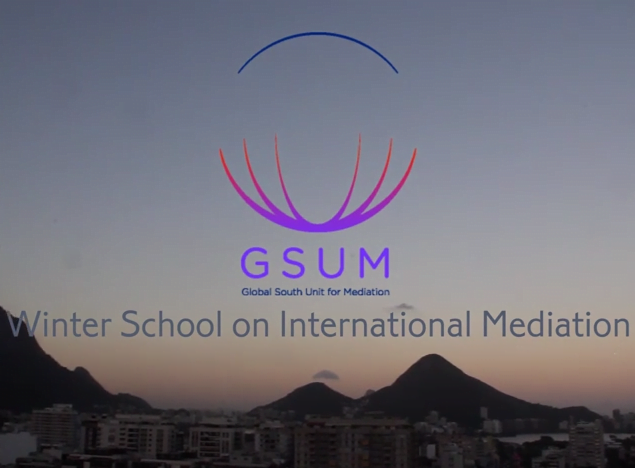 30 de September de 2014
In
News
GSUM WINTER SCHOOL'S NEW VIDEO: IMAGES AND TESTIMONIALS FROM ITS SUCCESSFUL FIRST EDITION
From July 28th to August 8th, 2014, the Global South Unit for Mediation (GSUM) held the first edition of its winter school on international mediation. Gathering students and lecturers from different parts of the world, the GSUM Winter School aimed at offering participants a unique academic and training experience on international mediation and conflict resolution, always from a Global South perspective. Below, we present you the winter school's institutional video, which gathers great testimonials from some of our students as well as images of the academic and social activities organized by GSUM during those amazing two weeks.
In its first edition, in 2014, the GSUM Winter School had the honor to receive Ambassador Antonio Patriota, Permanent Representative of Brazil to the United Nations and former Brazilian Minister of External Relations, to give its Inaugural Lecture. The main courses were taught by Profs. Laurie Nathan, Director of the Centre for Mediation at the University of Pretoria, and Joyce Neu, Founder and Senior Associate of Facilitating Peace. Aiming to contribute to the local, national and international public debate, the school also organized several public events with the participation of public officials, international mediation specialists and eminent scholars and practitioners, such as: Prof. Pinar Bilgin (Bilkent University); Prof. Cécile Mouly (FLACSO); Prof. Claudia Fuentes (IRI/PUC-Rio); and Mr. Marcelo Viegas (Ministry of Foreign Relations, United Nations Division).
To watch our institutional video, click here.
Information on the GSUM Winter School 2015's edition will be availabe in the GSUM website by the beginning of 2015.