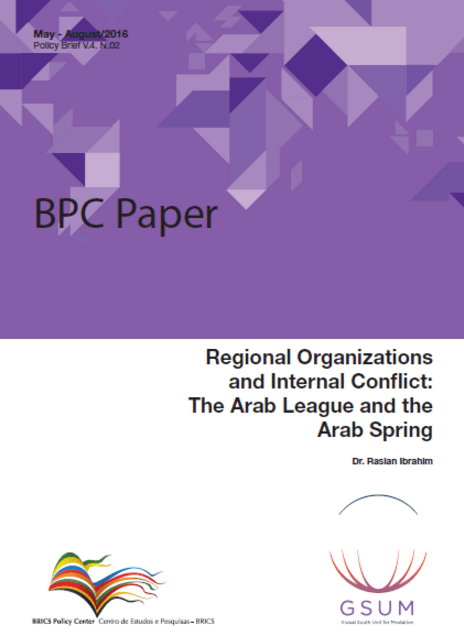 11 de May de 2016
In
News
GSUM RELEASES PAPER ON "REGIONAL ORGANIZATIONS AND INTERNAL CONFLICT: THE ARAB LEAGUE AND THE ARAB SPRING", BY RASLAN IBRAHIM
The Global South Unit for Mediation (GSUM) is happy to release another Paper produced in the context of its 2015 Fellowship Program, entitled "Regional Organizations and Internal conflicts: The Arab League and the Arab Spring". Conducted by Raslan Ibrahim* this research examines the role of the Arab League in the Arab Spring, situating its policies within the relevant literature on international and regional organizations.
With such objective in mind, Ibrahim argues that the Arab League policy during the Arab Spring was driven by multiple forces that cannot be reduced to regime interest and regional distribution of power alone. In this sense, Saudi Arabia and Qatar indeed influenced the policies of the League but there are multiple other factors that equally influence its policies – including the institutional, normative, and know-how power of the Arab League itself, as well as international human rights norms, perceptions of the conflict at stake, and regional and international development such as: the rise of Islamic State in Iraq and Syria, Iran-Saudi Arabia rivalry, and U.S-Russia rivalry during the uprisings.
Click here to download the paper.
*Dr. Raslan Ibrahim is a Post-Doctoral Fellow at the International Relations Institute at the Pontifical Catholic University of Rio de Janeiro (IRI/PUC-Rio). He has taught at the University of Denver, University of Colorado at Denver, Haverford College, and PUC-Rio. His research interests include International Politics of the Middle East and North Africa, International Relations Theory, and Human Rights.
Check out Ibrahim's interview by Brazilian newspaper O Globo's May 10th edition