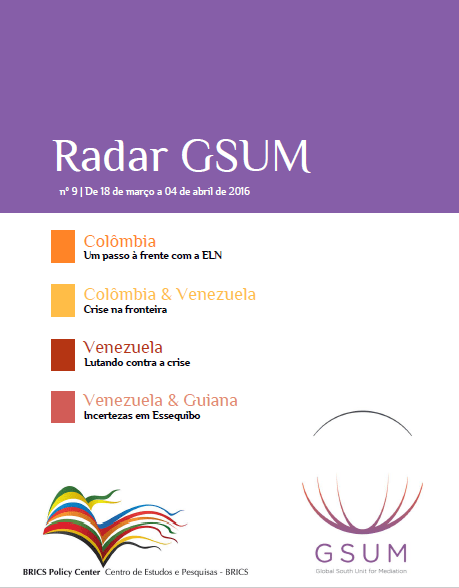 5 de April de 2016
In
News
GSUM RADAR #9
The GSUM Radar is a publication written in Portuguese and conceived as a platform for monitoring current international processes of negotiation of Latin American conflicts. Available on the 04th and 18th of each month through our mailing list and website, the first editions will specifically focus on the Peace Process in Colombia and the situation in Venezuela.
In addition to offering an update on the main conflicts of the region, Radar aims to identify the role of external actors and their attempts at mediating and facilitating dialogue. We will track the role of Latin American states, as well as the activities of regional and international organizations. In case readers wish to further explore the covered topics, Radar will also provide a series of additional information sources – official statements, think tank reports, expert analyses and local media news.
In this ninth edition, the GSUM Radar covers the main events from March 18th through April 04th, 2016.
To download the Radar #9, click here (available in Portuguese only).