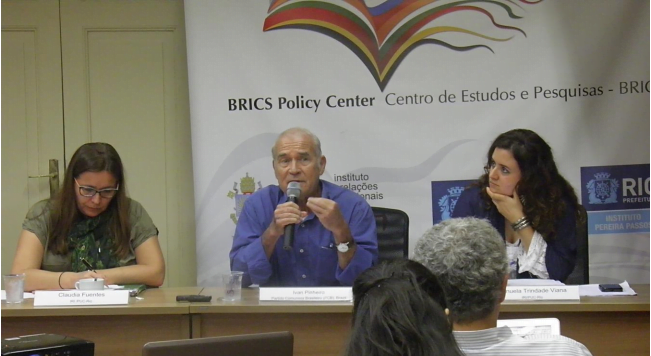 16 de December de 2015
In
News
GSUM PUBLISHES REVIEW ON THE SEMINAR "AT LAST, PEACE? COLOMBIA'S PEACE PROCESS AND CHALLENGES AHEAD"
On December 4th, 2015, the Global South Unit for Mediation (GSUM) in partnership with the BRICS Policy Center (BPC), held the seminar "At last, peace? Colombia's Peace Process and Challenges Ahead". In the audience were present researchers and practitioners of the field, as well as graduate and undergraduate students from various institutions.
Addressing the most critical issues that constitute the process of peace negotiations in Colombia since 2012, the seminar produced interesting debates and reflections. Then, GSUM is honored to share the fruits of this meeting through two reviews: one about "The Havana talks and the peace agreements"; and another on the "Challenges for the Peace Process" (soon also available in Portuguese).
You can also check out our exclusive interview with the speaker Sergio Guarin (Idepaz). A second interview on this topic, with Camilo Villa Romero (MOVICE), will be available soon on our website and social networks.
Click here to check out the full program of the event.a