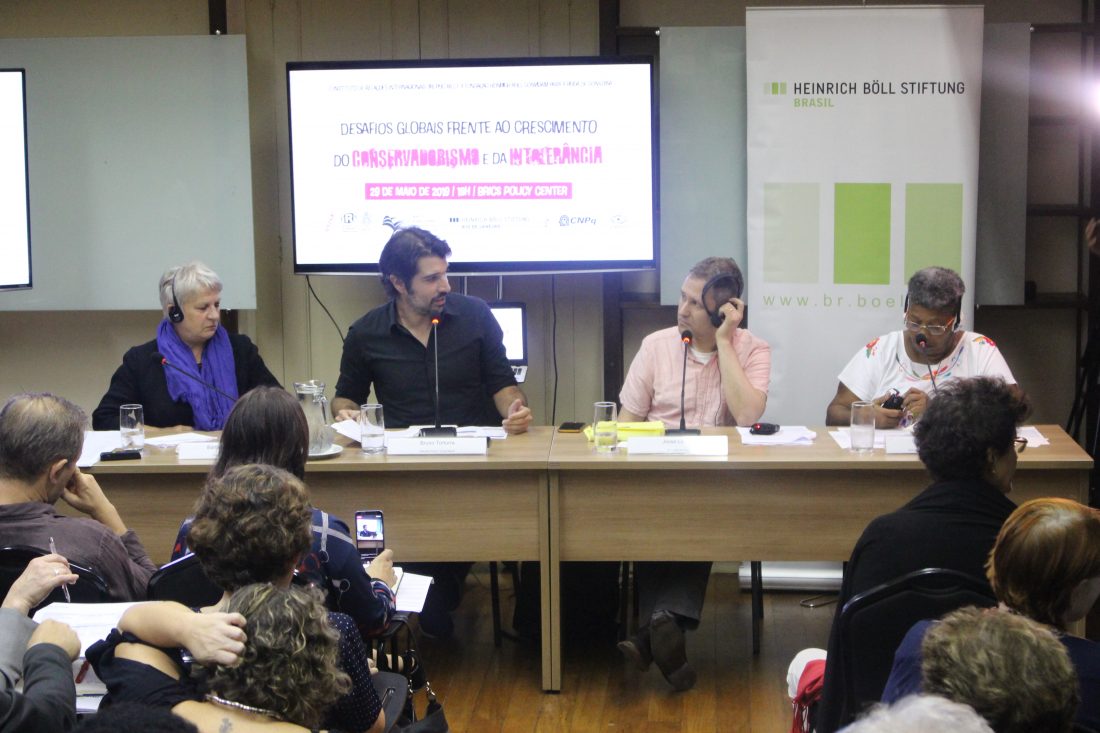 3 de June de 2019
In
News
Event organized by BPC and the Heinrich Böll Foundation discusses freedom of expression, conservatism, and democracy
On May 29th, 2019, BRICS Policy Center, in partnership with the Heinrich Böll Foundation, hosted the event "Global challenges facing the growth of conservatism and intolerance". The discussion panel was lead by Bruno Torturra, journalist of Estudio Fluxo, and counted with the participation of Barbara Unmüßig, President of Heinrich Böll Foundation; Jesse Levine, Senior Advocacy Officer at Scholars of Risk; and Valdecir Nascimento, Founder, and Coordinator of ODARA – Black Women's Institute.
The invited speakers discussed the rise of the far-right across the world and its implications for democracy and freedom of expression, highlighting the issue of shrinking spaces, i.e. increasing limitation of civil societies' and nongovernmental organization's actions in opposition to this trend. It was emphasized that successful protests against the elite give rise to stricter surveillance of civil society.
The structural racism in Brazil, with a focus on racism faced by black women, was also an important topic of the debate. According to Valdecir Nascimento, it's especially noticeable when comparing the attention given to crimes affecting black people in contrast to crimes affecting white people.
However, although the discussion called attention to several problems suffered in many countries, the panelists expressed optimism with regards to the future and the powerful effect of resistance as well as the potential unifying effect of joint actions against climate change.