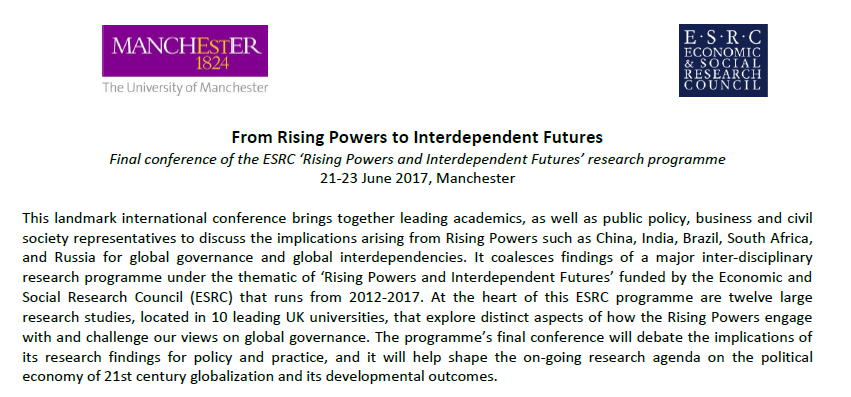 14 de July de 2017
In
News
CONFERENCE "FROM RISING POWERS TO INTERDEPENDENT FUTURES" DISCUSSES GLOBAL GOVERNANCE IN MANCHESTER, ENGLAND
From June 21st to 23rd, 2017, The University of Manchester and the Economic & Social Research Council (ESRC) hosted the conference "From Rising Powers to Interdependent Futures" in Manchester, England. The BRICS Policy Center was present through the participation of its General Supervisor, Prof. Paulo Esteves. The conference gathered academics, civil society and business representatives to discuss the implications arising from Rising Powers such as China, India, Brazil, Russia and South Africa for global governance and global interdependencies.
The conference was based on findings of a major inter-disciplinary research programme under the thematic of "Rising Powers and Interdependent Futures" funded by ESRC that runs from 2012-2017. At the heart of this ESRC programme are twelve large research studies, located in ten leading UK universities, that explore distinct aspects of how the Rising Powers engage with and challenge our views on global governance.
Prof. Paulo Esteves participated in the round table "A 2017 Perspective", in which he shared the speech with Chinese and English academics to discuss the current situation of the rising powers.