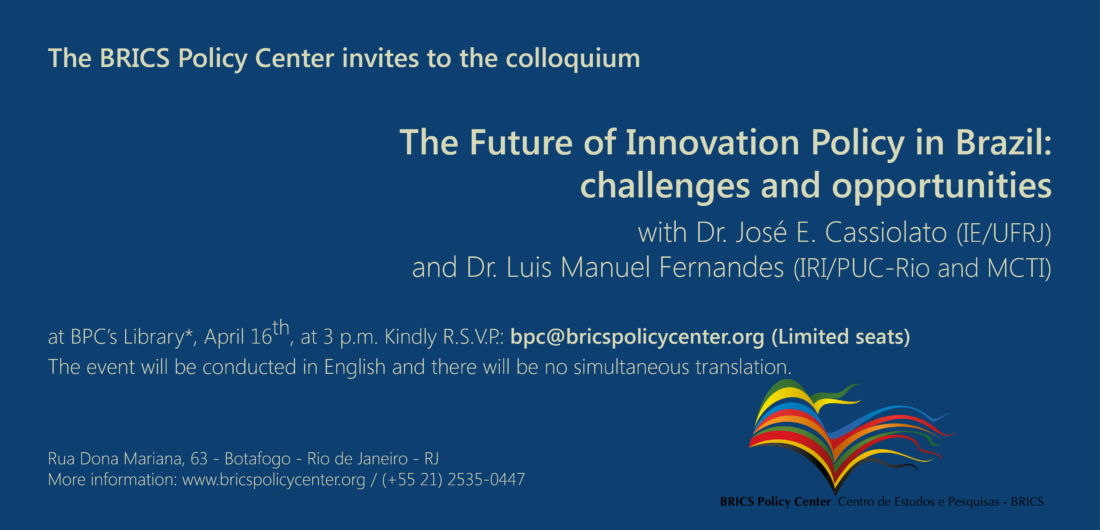 17 de March de 2015
In
News
COLLOQUIUM "THE FUTURE OF INNOVATION POLICY IN BRAZIL: CHALLENGES AND OPPORTUNITIES"
The BRICS Policy Center invites to the colloquium Colloquium "The Future of Innovation Policy in Brazil: Challenges and Opportunities" with Dr. José E. Cassiolato (IE/UFRJ) and Dr. Luis Manuel Fernandes (IRI/PUC-Rio and MCTI), at BPC´s library (Rua Dona Mariana, 63 – Botafogo – Rio de Janeiro), on April 16th, at 3:00 p.m.
The event will be conducted in Portuguese and there will be no simultaneous translation
Kindly R.S.V.P: bpc@bricspolicycenter.org (Limited seats).
Abstract:
The wide recognition of innovation as the fundamental driver of socio-economic development is increasingly reflected in the development strategies of important emerging powers, especially the BRICS. In Brazil, innovation and technological development have been the main focus of the industrial, technological and foreign trade national policy over the past decade. On the other hand, the innovative rate of Brazilian industry does not seem to follow the increases in public funding for innovation, and a substantial rise of private investments remains a goal to be achieved. Before the current scenario, what is the future of innovation policy in Brazil for the next four years? What are the main challenges and opportunities, considering both the domestic macroeconomic conditions in Brazil and its position in a changing world, particularly marked by the emergence of the BRICS?