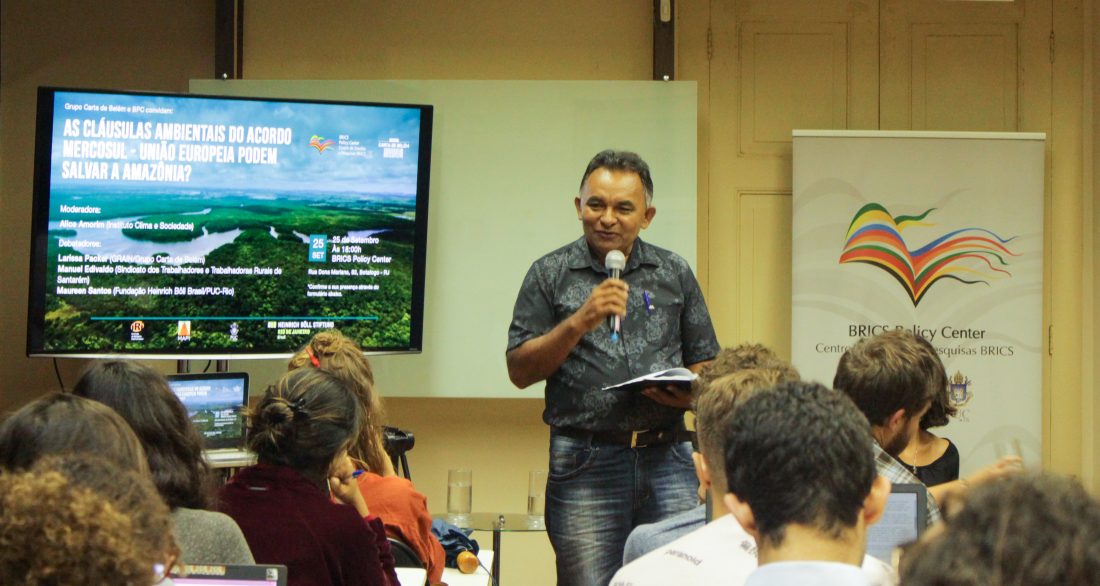 27 de November de 2019
In
News
Carta de Belém and BPC hold debate on the environmental clauses of the MERCOSUR-EU Agreement and the Amazon
The trade agreement between Mercosur and the European Union has been a subject of intense debate, especially its environmental clauses and expected impacts on environmental preservation in Brazil. The Brazilian government withdrew its commitments with multilateral environmental agreements, including the Paris Agreement and the European Union Convention on Climatic Changes. However, the recent fires in the Amazon rainforest extend the discussions about whether the agreement will indeed contribute to environmental preservation and sustainable development.
Due to that, Carta de Belém Group, in partnership with BRICS Policy Center organized, on September 25th, 2019,  the public debate "Can the Environmental Clauses of the Mercosur- European Union save the Amazon forest?". The event consisted of the contributions of Larissa Packer, GRAIN and Carta de Belém, Manuel Edvaldo, representative of the STTS and Maureen Santos, Socio-Environmental Platform Coordinator (BPC), and Environmental Justice Coordinator for the Heinrich Böll Brasil Foundation. Alice Amorim, Instituto Clima e Sociedade, conduced the debate panel.
On the occasion, the panelists debated the causes of Amazon deforestation, the limits of the free trade agreement and also of its environmental clauses. Besides, they also highlighted the danger concerning false solutions to combat the fires and subsequently amazon rainforest deforestation.