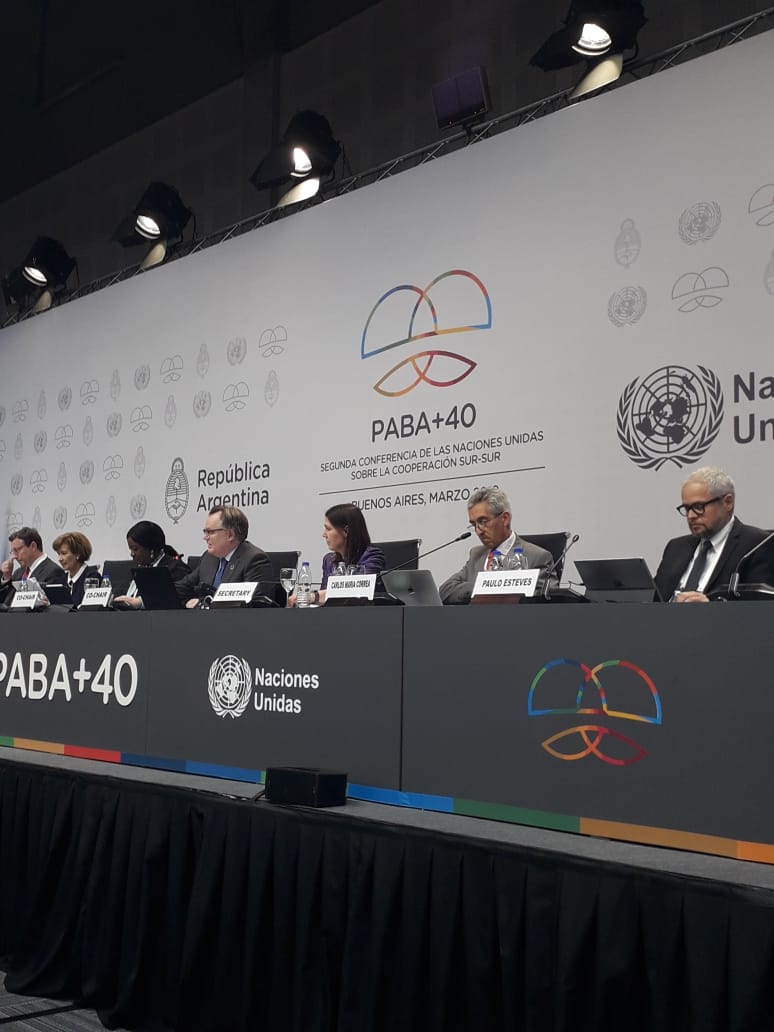 BRICS Policy Center participates in the Second High-Level United Nations Conference on South-South Cooperation in Buenos Aires and launches new publication
A delegation of LACID researchers from the BRICS Policy Center participated in the Second High Level United Nations Conference on South-South Cooperation (BAPA + 40) in Buenos Aires, Argentina, from March 20 to March 22. Three fact sheets were prepared for the conference: (i) Triangular Cooperation in Latin America and the Caribbean: paving the way to Leave No One Behind, (ii) SSC and the 2030 Agenda: Adopting and adapting the LNOB approach e (iii) Private Sector Engagement through Development Cooperation (PSE). The BPC also published "The Case for South-South Cooperation on Peace and Development",
with the support of UNOSSC.
At the official conference, the BPC participated in the third panel discussion, "Scaling up the means of implementation of the 2030 Agenda for Sustainable Development in support of South-South cooperation and triangular cooperation". Panelists explored examples of South-South Cooperation and Triangular Cooperation involving various stakeholders, identified strategies to improve such partnerships, and discussed the role of developed countries in supporting such modalities of cooperation in trade, investment, structure and technological exchange. The panel also sought to find ways of nurturing in developing countries the capacity to support national plans and mobilize resources to implement ODS through South-South cooperation and triangular cooperation.
In addition, the BPC organized – together with partners such as Network of Southern Think Thanks (NeST), Research and Information System for Developing Countries (RIS) and German Development Institute (DIE) – the events:
"Engaging Private Actors to Achieve the 2030 Agenda: Learning from South-South and Triangular Cooperation",
"APRM as best Practice for South-South Cooperation in the African Continent",
 "South-South Cooperation on Peace & Development", in which a homonymous publication was lauched, and
"Plurality of South-South Cooperation";
and participated in seven others:
"Development Cooperation for Achieving 2030 Agenda",
"Effective Triangular Cooperation: the Future of Collaborative Development",
 "Contestation and Collaboration in International Development cooperation for Achieving the Sustainable Development Goals",
"Lessons Learnt from Triangular Cooperation: Looking at the Results and Sharing Partners' Perspectives",
"The power of International Value Chains in the Global South",
"La Cooperación Sur Sur en el escenario de las Relaciones Internacionales, a 40 años del PABA", and
"Inter – regional dialogue: challenges for South – South and Triangular Cooperation in Africa and LATAM after BAPA+40".