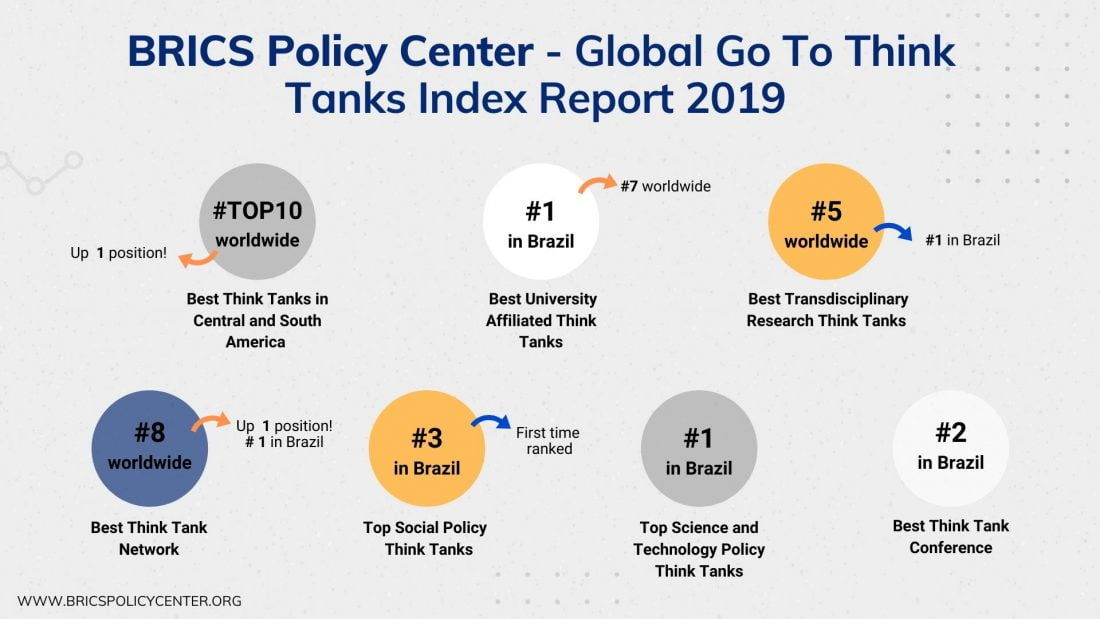 3 de February de 2020
In
News
BRICS Policy Center is among the top 10 best Think Tanks in Central and South America
For the ninth consecutive year, the BPC is recognized among the best Think Tanks of the world. The result has been released by the
Global Go To Think Tank Index Report 2019
, produced by the
University of Pennsylvania
. The report is the outcome of a survey answered by more than 3.974 academicians, public and private donners, decision-makers and journalists. The ranking gathers over 8.000 Think Tanks across the world.
In 2019, the BPC is among the top 10 "Best Think Tanks in Central and South America", having conquered 17 positions since 2016. The center also stood out in the category "Best University-Affiliated Think Tanks", as the best in Brazil and 7th best worldwide. In the "Best Transdisciplinary Research Think Tank" ranking, BRICS Policy Center is among the top five worldwide and is the best in Brazil for the category.
The BPC is also Brazil's best in the following categories: "Top Science and Technology Think Tanks" and "Best Think Tank Network". In addition, the Center gained prominence for the first time in the category "Top Social Policy Think Tank", occupying the third position in Brazil.
The BRICS Policy Center, founded in 2010, is affiliated with the International Relations Institute (IRI) of Pontifícia Universidade Católica do Rio de Janeiro.
Check out all of BPC rankings at the Global Go To Think Tank Index Report 2019 here.