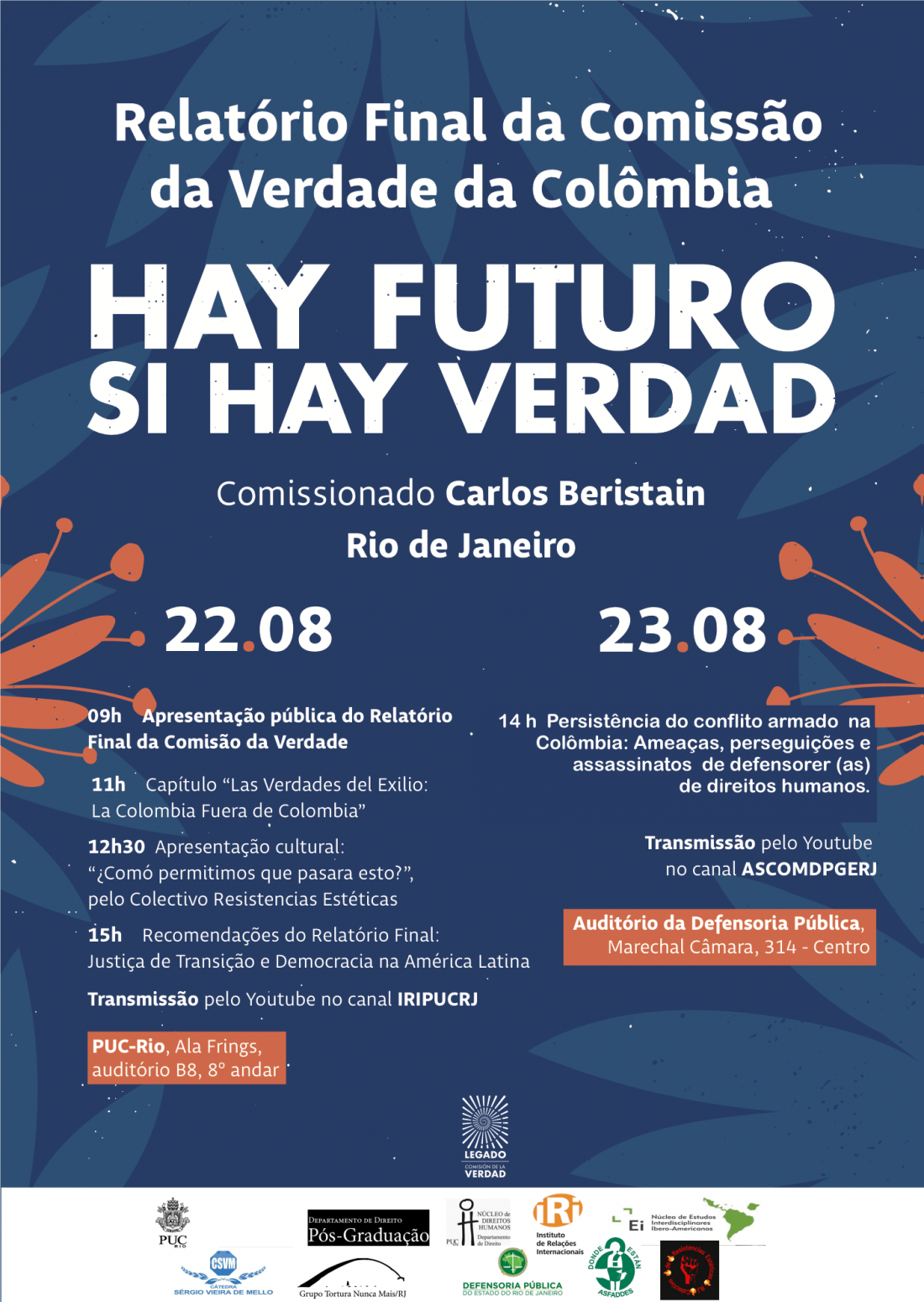 BPC researcher participates in event to launch the Final Report of the Truth Commission of Colombia
On August 22, Professor Maria Elena Rodriguez, researcher at the BRICS Policy Center, participated in the event to launch the Final Report of the Truth Commission of Colombia in Rio de Janeiro.
The event, organized by the Institute of International Relations of PUC-Rio and the Department of Law, included activities that sought to debate the impact of the report of the Commission for the Clarification of the Truth of Colombia, released in June 2022.
At 9am there was a public act of delivery of the Report to the university community, with the presence of the Magnificent Rector and the direction of the two departments by the commissioner Carlos Bernstein.
Afterwards, at 11am, the commissioner presented the chapter "Las verdades del Exílio: La Colombia Fuera de Colombia", with the presence of the Sérgio Vieira de Mello Chair for Refugees at PUC-Rio. At 3pm, there was also an open conversation/debate about the Report's Recommendations: Transitional Justice and Democracy in Latin America.
The work of the Truth Commission was presided over by Jesuit priest Francisco de Roux. Over 3 years and 7 months, the Commission heard approximately 30,000 people in individual and collective interviews with victims, family members, witnesses, armed actors in the conflict, civilian third parties, businessmen, members of the security forces, former presidents, and other social and political figures. In addition, it initiated a participatory process that included the opening of 28 Truth Houses in different municipalities affected by the conflict and the holding of multiple acts, dialogues and procedures for the non-continuation and non-repetition of the armed conflict; the recognition of those responsible and the dignification of the victims.
The Truth Commission indicated that at least 450,666 people lost their lives in the context of the armed conflict; 121,768 were victims of forced disappearance; 50,770 were kidnapped; 16,238 children and adolescents were recruited; 32,446 people were victims of acts against their freedom and sexual integrity; and about 8 million were displaced, among other rights violations.
The Truth Commission's Final Report, divided into ten volumes, has specific chapters on violence against women and LGBTI people and the role they played in peacebuilding and forms of resistance; the impacts of the armed conflict on ethnic peoples and disputes over the territories of these communities; the experience of the Colombian population exiled for reasons of the armed conflict; and the stories of children, adolescents, and youth who lived through the conflict."