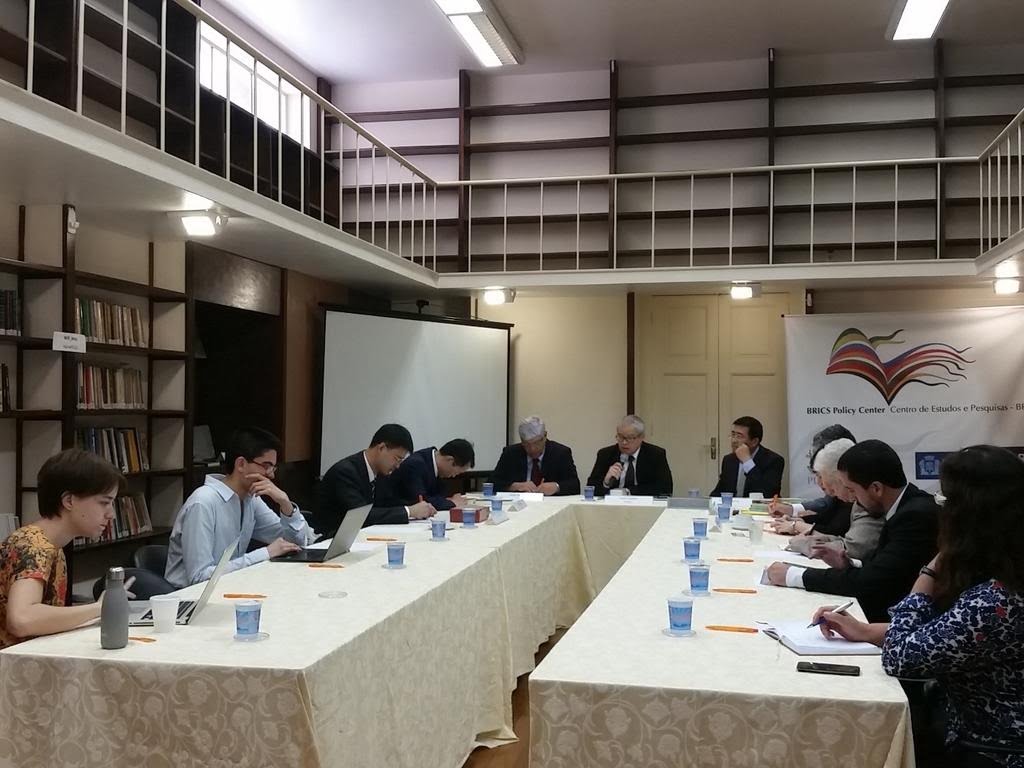 19 de November de 2015
In
News
BPC RECEIVES FUNAG AND CICIR FOR THE ROUND TABLE "CHINESE DIPLOMACY ON THE NEW INTERNATIONAL SCENARIO, ITS RELATIONS WITH BRAZIL AND BRICS"
On November 6, BRICS Policy Center organized, together with Fundação Alexandre Gusmão (FUNAG), a round table called "Chinese Diplomacy on the new international scenario, its relations with Brazil and BRICS". Components of the round table were Professors Paulo Esteves and Paulo Wrobel, from BRICS Policy Center / IRI, Feng Zhongping, Li Xin, Yang Shouguo e Sun Yanfeng, from China Institutes of Contemporary International Relations (CICIR), Ambassador Sérgio Moreira Lima, from FUNAG, and Mr. Alexandre Cardenas, from IPRI/FUNAG.
The main points of discussion were the understanding of BRICS countries about the nature and role of the bloc, expectations over the future functioning of BRICS bank and China's new role on world economy, since, for the first time in many years, it is facing a reduction on its economy growth. The world press' coverage of the bloc was also a point of discussion, since there is, on international press, a growing tendency for emphasizing the divergences between the countries, instead of their points of agreement. The Chinese group predicted that BRICS is a bloc in the making of a protagonism on world politics, especially for representing the emergence of new markets, and it argued that the role of think tanks concerned with world politics is to contribute for the better understanding of global economic and financial governance.
China's and Brazil's special relation was emphasized – besides being Latin America's biggest economy, Brazil is currently China's major commercial partner in the region. As major forces on BRICS' political articulation, it was argued that the two countries should take the lead of the movement in order to be able to pressure the international scenario for a reform of the political and economical world order. The three participating institutions ended the meeting by reinforcing the intentions and plans of further mutual contribution between each other.
The day before,  at FIRJAN headquarters was hosted a meeting and a debate with CICIR. Several institutions participated, including mainly academic and governmental representatives. The BRICS Policy Center was represented by the researchers Geovana Zoccal and Sérgio Veloso. The International Relations Institute (IRI/PUC-Rio) was represented by the Gaduate Coordinator, Professor Kai Kenkel.
During the event, President of the Aexandre de Gusmão Foundation (FUNAG), Ambassador Sérgio Eduardo Moreira Lima, led a discussion on Sino-Brazilian relations, research on the international relations of both countries, as well as the knowledge that each country has on the other. CICIR presented its line of work, and learned of similar research aims by other event attendees.