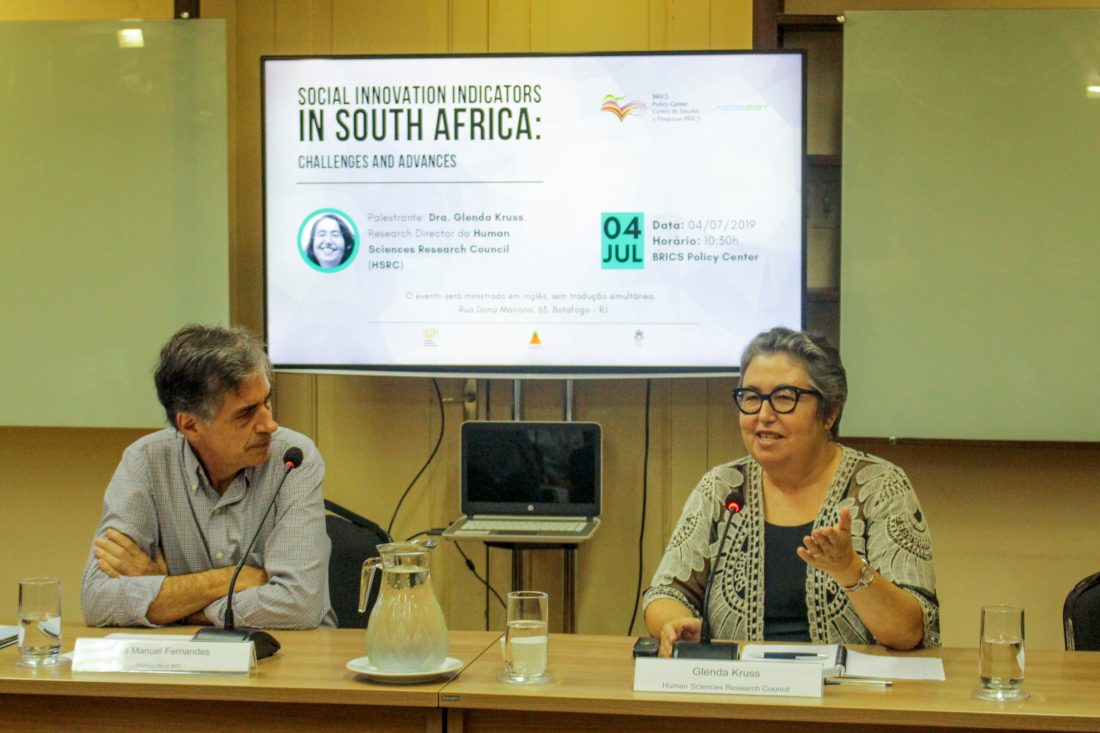 17 de July de 2019
In
News
BPC organizes a lecture about the challenges and advances in the development of social innovation indicators in South Africa
On June 04, 2019, the lecture "Social Innovation Indicators in South Africa: challenges and advances" was held at the BRICS Policy Center, in partnership with Redesist, and had the presence of Dr. Glenda Kruss, the Deputy Executive Director of the Centre for Science, Technology and Innovation Indicators (CeSTII) at the Human Sciences Research Council (HSRC). The event addressed the challenges and advances in the development of social innovation indicators in South Africa. In addition, Dra. Kruss presented the CeSTII's advances in the development of Science, Technology, and Innovation (STI) indicators that could be able to reflect, beyond economic growth, a range of aspects related to human and social development in emerging economies.
Despite the inherent challenges in the measurement of intangible assets linked to historical patterns of inequality, CeSTII has sought to develop a South African STI index for inclusive development by conducting innovative and interactive experiments, for example in sectors linked to agriculture and to the informal economy. Such experiments have involved the development of new indicators based on existing data and the cross-referencing of international and local methodologies, such as the creation of new databases based on in-depth field research and the development of the innovative Human Development R&D Index.
According to Dr. Kruss, the construction of research networks throughout the South African territory has been one of the key points in this process, which intends to stimulate, more broadly, connections by the Global South that facilitate the creation of more adequate tools for the measurement and evaluation of inclusive development in these countries, focusing on the formulation of more effective economic and social policies.
It was also debated the need to incorporate new indicators into the evaluation systems of higher education institutions, which may reflect the positive impacts of universities on the formulation of public policies and their contributions to social development, thus going beyond the current focus on publications in international indexed journals. In this sense, Dr. Kruss stressed the need to create systems that recognize and encourage the leading role played by teachers and researchers and that promote a balance between financial and academic imperatives and the imperatives of social development.