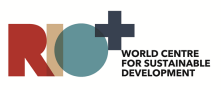 8 de December de 2015
In
News
BPC MEETS WITH RIO+ CENTRE EXPERTS
On December 8th 2015, the BRICS Policy Center, represented by its General Supervisor Professor Paulo Esteves and the research assistants Manaíra Assunção and Karin Adam, met with Mrs. Laura Hildebrandt, specialist in Post-2015 & SDGs Policies, and Amath Pathe Sene, specialist in Poverty and Environmental Policies, both from Rio+ Centre.
The Centre was established as a legacy of the Rio+20 Conference with the goal to preserve the commitments to sustainable development. For more information access: http://riopluscentre.org/.
The purpose of the meeting was to approach the BRICS Policy Center and the Rio+ Centre in terms of common research agendas, mainly the Sustainable Development Goals, as well as the possibility of collaboration in publications, conducting joint events and an institutional partnership.