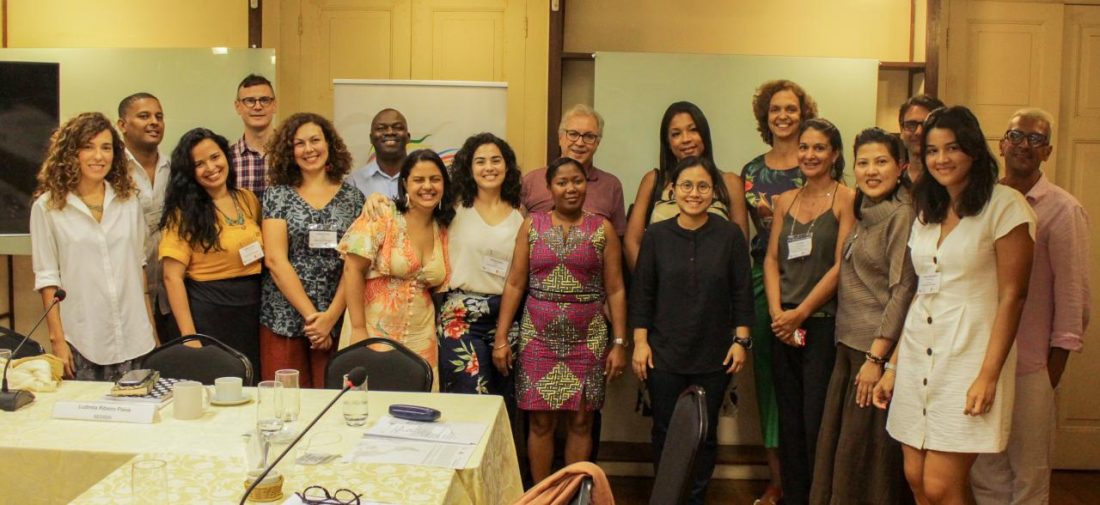 7 de February de 2020
In
News
BPC hosts workshop "Global Cities Free of Slavery"
The workshop Global Cities Free of Slavery held in Rio de Janeiro in the BRICS Policy Centre is the first step in the direction of the construction of a network of global cities engaged in the eradication of modern slavery. This dialogue started between the cities of Maputo, Bangkok, Nottingham and Rio de Janeiro with the presence of the civil society which carries on placed-based responses to slavery in the city of Rio de Janeiro[1]. The workshop was also attended by distinct members of the Labour Prosecutor Office, Anti-slavery Regional Secretariat, Public Defence Office, Public Prosecution Service, and human rights and social work state and municipal secretariats' members.
The project is a mixture of action-learning and knowledge exchange between partners in addition to learning from the host city. Within this framework, there is flexibility for different types of activities according to the resources available in the host city. On the second day of the workshop, the group visited the favela Providencia, the Cooperative Maravilha of seamstresses, walking in relevant areas of the city from a historical perspective. During the visit, guided by two historian researchers and a local guide from the favela Providencia, it was possible to get in touch with the roots of modern slavery in Brazil.
The strategy of the project is a global anti-slavery network starting in Rio de Janeiro followed by the cities of Maputo in July 2020, Bangkok in November 2020 and Nottingham in April 2021. The project will consider placed-based actions from a systemic perspective, comparing policy and practice to promote the prevention of slavery; security and enforcement protocols to enable discovery of victims; survivor-informed approaches to building respite and recovery systems; and strategies to promote long-term resilience.
The network will encourage policy and practice innovation through comparison and adaptation of initiatives and ideas also building relationships to enable more extensive future research collaborations around the topic of slavery-free communities and place-based responses to slavery.

The project is part of the AHRC Global Engagement Networks and funded by the Global Challenges Research Fund – GCRF. The Global Cities Free of Slavery initiative is directed by the BRICS policy Centre (PUC Rio) as the principal investigator and co-directed by the Rights Lab (University of Nottingham).
[1] Conexão G is a NGO  coordinated by Mariah Rafaela from the favela da Maré, the NGO  aims to prevent and protect transgenders from abuses and sex exploitation, the Cooperativa Maravilha is collectively managed by seamstress women from the favela of Providencia and aims to empower women raising awareness of slavery through income generation and decent work in the garment sector, AprendIN is an online platform coordinated by Robson Santos to promote employability and decent work with focus in the young people in the Complexo do Alemão.