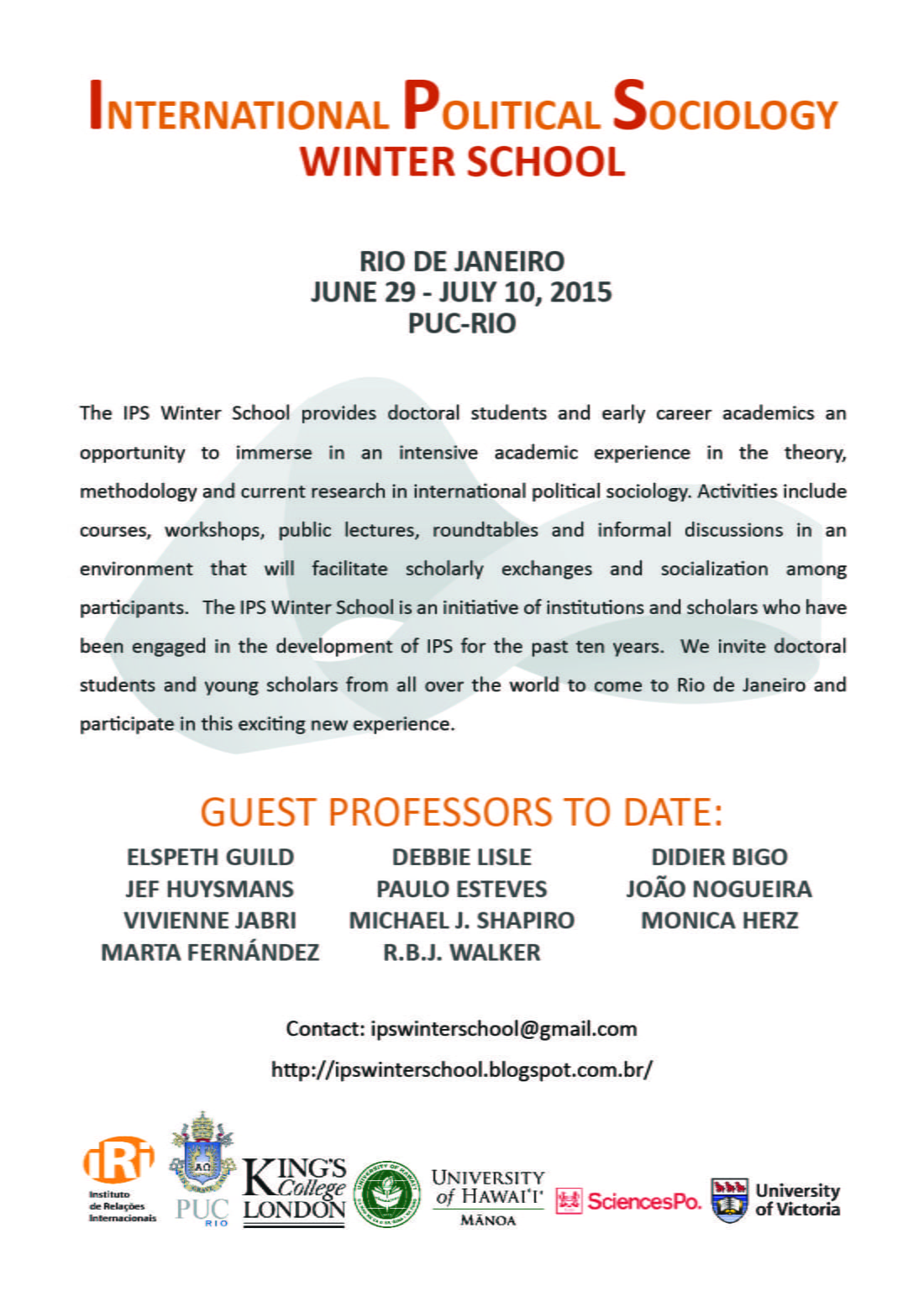 15 de May de 2015
In
News
APPLICATIONS FOR THE 2015 INTERNATIONAL POLITICAL SOCIOLOGY WINTER SCHOOL ARE OPEN
IPS Winter School
The Institute of International Relations of PUC-Rio, in partnership with other outstanding universities, is pleased to announce that applications for the 2015 International Political Sociology Winter School are open!
The IPS Winter School is an initiative of institutions and scholars who have been engaged in the development of IPS for the past ten years. It will offer master and doctoral students and young scholars an opportunity to engage in an intensive academic experience in the theory, methodology and current research in International Political Sociology.
The Winter School will offer the following activities:
•  General Courses in theory and methodology
•  Optional courses on contemporary IR subjects
•  Writing Seminars
•  Publishing Tutorials
•  Professional Mentorship
•  Individual Appointments
•  Public Events
Candidates may choose to apply for:
• Option 1: first week only (29 June – 03 July 2015)
• Option 2: second week only (06 July – 10 July 2015)
• Option 3: both weeks
Fees are (Brazilian Reais):
• One week: R$ 1.300,00
• Two weeks: R$ 1.950,00
Prospective participants should fill in the Application Form (download here) and email it, along with supporting documents, to ipswinterschool@gmail.com.
Applicants that fulfill the eligibility criteria will be contacted with payment information. Places are limited to 35 participants per week and will be assigned on a first-come, first served basis.
The deadline for applications is May 29th 2015.
For more information about the school program, application form, guest scholars and fees, please click here.
For applications and other enquiries, contact us on ipswinterschool@gmail.com.