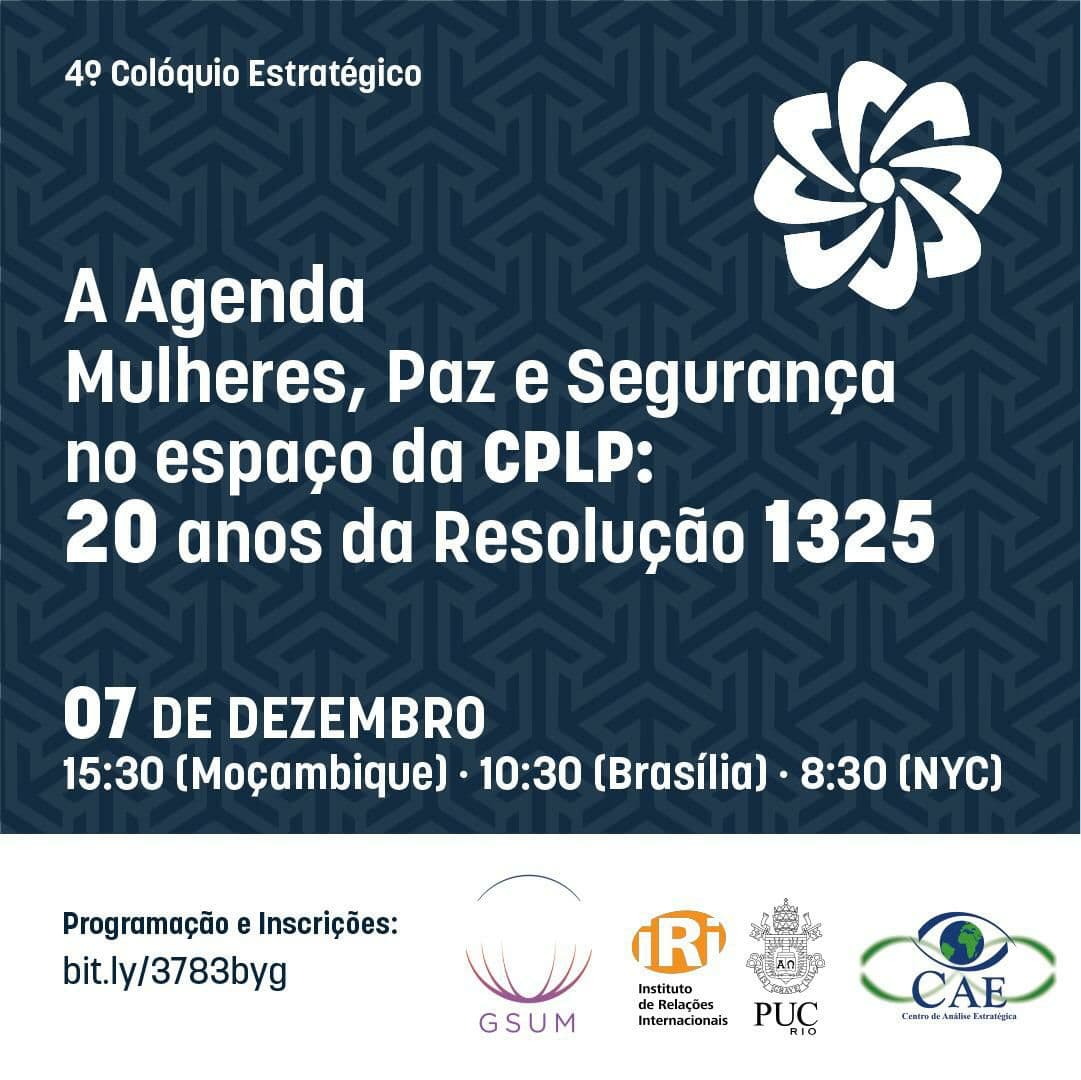 30 de November de 2020
In
News
4th Strategic Colloquium The "Women, Peace and Security" Agenda in CPLP Countries: 20 years of UNSC Resolution 1325
The strategic colloquium will advance discussions on the implementation of the "Women, Peace and Security" (WPS) agenda among Portuguese-speaking countries, identifying the advances and challenges encountered in these contexts. The colloquium will promote the exchange of knowledge, experiences and best practices between military and civilian governmental authorities from Member States of the Community of Portuguese Speaking Countries (CPLP), representatives of civil society organizations and of the United Nations.
Roundtable participants will be invited to share their perspectives and experiences on topics such as the presence of women in the Armed Forces, the promotion of women's leadership and their participation in peace processes and in the prevention of violent extremism and terrorism, as well as the protection of women against gender-based violence. Discussions will seek to foster dialogue and cooperation for the development of joint policies and strategies which reflect the realities of CPLP countries.
The event will be held through an institutional partnership between CPLP's Strategic Analysis Center (CAE/CPLP) and the Global South Unit for Mediation (GSUM) at the Institute of International Relations at PUC-Rio.
Date: December 07, 2020
Time: 15:30-17:30 (Maputo); 10:30-12:30 (Brasília); 08:30-10:30 (NYC)
Registration: bit.ly/3783byg
The event will be held in Portuguese and there will be no simultaneous translation.
Program:
Opening:
– CMG Francisco Evandro Rodrigues Camelo (CAE/CPLP's Director)
– Monica Herz (GSUM, IRI/PUC-Rio)
Participants:
– Viviane Rios Balbino (Ministry of Foreign Affairs, Brazil)
– Rosa Comba Jaime (Ministry of National Defense, Mozambique)
– Fatumata Ba (Ministry of Defense, Guinea-Bissau)
– Valéria de Campos Mello (DPPA/UN)
Chair: Paula Drumond (GSUM, IRI/PUC-Rio)